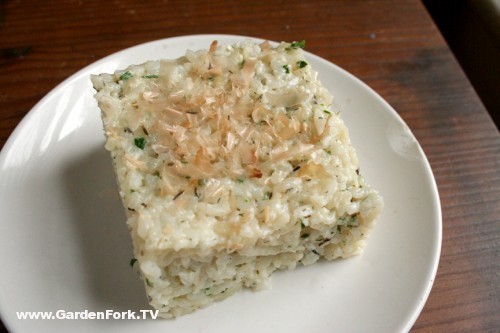 Don't throw out that rice! Instead make this twice-cooked side dish. It's easy to make and it only takes about 15 minutes. It's rich and creamy and similar to risotto but closer to a Japanese onigiri (rice ball). This recipe serves two.
You'll need;
a small covered sauce pan
a wooden spoon
a square or round cooking ring
1 ½ cups cooked, leftover rice
¾ cup chicken broth
2 tablespoon butter
1 tablespoon olive oil
¼ teaspoon of spices to your taste: powdered onion, garlic, parsley,  pepper, oregano, thyme... etc.
¼ cup grated Parmesan cheese.
½ teaspoon sea salt, to taste
Add chicken broth, butter, salt, and spices to a small sauce pan and bring to a boil. Lower heat to medium and add cooked rice. Stir often with a wooden spoon until most of the liquid is absorbed. Remove from heat and add grated Parmesan cheese and olive oil, mix well, cover, and let it set for 5 minutes. Put rice into cooking rings and pack well, then remove the ring. If the rice does not release easily from the ring, run a wet butter knife around the inside edge. Top it with more grated Parmesan or dried bonito flakes. You have to admit this is pretty impressive for leftover rice.