I am using plastic tubing for tapping sugar maples, and learned a hard lesson this weekend. When you only tap maple trees once a year, you forget stuff. And when you're working in 2' of snow and the wind is howling, your brain takes a hit.
I tapped our sugar maples a week ago using tubing, I find it works better for me than sap buckets, which you have to empty every day the sap runs. I'm only able to work on this on the weekends, so I run tubing to a large collection barrel that can collect several days of sap. You can buy maple tapping supplies here.
So last weekend I tapped the sugar maples, and ran the lateral lines to the barrels. But I made a mistake. The lateral lines where close to level with the tapping spouts, so the tubing connecting the spout to the lateral line looped down below the lateral. I didn't think this was a big deal until the temperature dropped, and the sap in the loop of tubing below the lateral line froze.
The problem here is that sugar maple sap will run even when its near freezing, but if the tubing has frozen sap in it, the sap stays in the tree.
So as a reminder to myself and a lesson for you all, you want your taps and the tubing to be above the lateral line. So the sap drains to the barrel, not collect in the tube and freeze.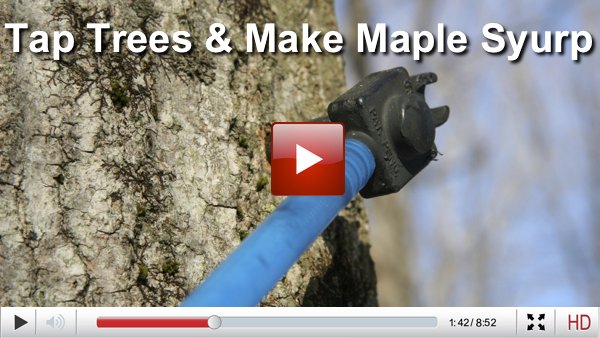 Watch our How To Make Maple Syrup Videos here