A new how to tap maple trees video for you. We just tapped our sugar maples, getting ready for maple syrup season, and we made another video about how to tap your sugar maple trees. We have more great how to make maple syrup videos below this video.
We use tubing and tree saver taps to tap our sugar maples. You can buy tree saver taps here. The tubing leads to a barrel made of food grade plastic. You can also line a 30 gallon trash can with a food grade plastic bag.
You can also have 5 or 6 gallon buckets at the base of each tree and run your tubes into them. But its easier to empty one big barrel instead of a bunch of small buckets in deep snow.
This year the maple syrup season started late and we have so far only had a few days of sap running. We need warm days and cold nights for the sap to run, and we have had way too many cold days.
I am tapping trees on my neighbor's land this year as well. They  have some nice sugar maples right on the road, which makes hauling sap much easier. Imagine walking through the woods carrying buckets of water through deep snow. Now you know why I use lines and tap trees near the road!
We have a bunch of how to make maple syrup videos here on GardenFork. It is super fun to tap your own trees and boil down sap into syrup. Watch our videos to learn how.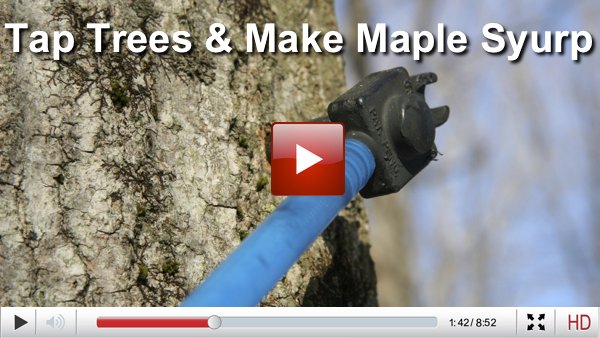 Watch our How To Make Maple Syrup Videos here