Friend calls me, his water heater burner goes out every time it tries to heat the water in the tank. We re-light the pilot light, and the burner - the big ring of fire that looks like gas kitchen range burner - keeps going out or wont light at all. So I call my plumber friend. He already knows what's wrong.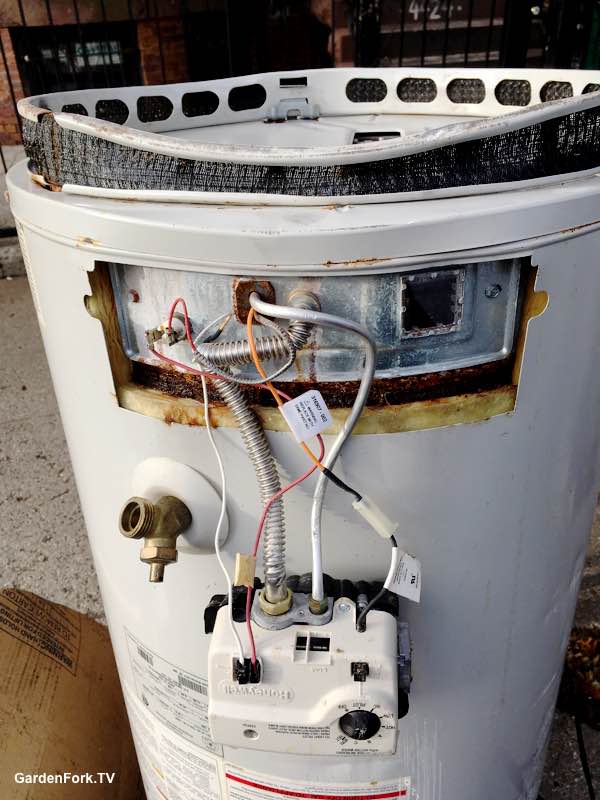 Here's the short answer to why the water heater burner goes out. The water heater is starved for air. There's just enough air getting into the burner area for the pilot light to work, but not enough to sustain the big ring of fire. (Now you have the Johnny Cash Ring of Fire song in your head)
Walking the Labs in the city this afternoon, I finally had a great visual to explain this all to you. On the curb, waiting for the recycle pickup, was an upside down gas water heater. It was a perfect opportunity to show how air gets into the burn chamber of the rig, and why it can get starved for air.
There are two vents on the bottom of the heater with very small slits, and the whole tank rests on a metal ring that has oval holes cut into it. This metal support ring is wrapped with a filter material. Air for the burner goes through these big holes, and then through the small slits into the burn chamber.
But keep in mind water heaters are usually in the basement, and many basements aren't the cleanest places. Lots of dust. The water heater draws in air at a pretty good rate, and along with that air it pulls in dust.
Eventually enough dust, despite the filter material wrapped around the stand ring, clogs the small vent slits under the burner. Enough air still gets through to keep the pilot light lit. But when the thermostat on the tank calls for the burner to fire up, it fails because it is starved for air.
The first fix to try when the water heater burner goes out is simple. Clean those tiny vents.
For this you can buy a furnace brush (affiliate link). Pull aside the filter material around the ring, and run this brush back and forth across the bottom of the tank, cleaning the vents. If you can get a vacuum hose under there after brushing, all the better.
After watching my plumber friend fix the problem heater, I bought two of these brushes, one for me and one for my friend. A very cheap solution. And a reminder to keep your basement clean.
Buy the water heater cleaner brush here (affiliate link)