Getting your honeybees through winter is a challenge. We feed our bees sugar in the form of a sugar cake, (sugar cake recipe below video) and show you in this video how to feed your bees sugar in the winter.
Note: I know use the Mountain Camp method of winter sugar feeding, but the video below is a good visual on checking your bees in winter.

Another benefit of sugar cakes on top of the hive is that they sugar absorbs moisture, reducing the chance of condensation forming on top of the hive and raining down on your bees, killing them.

We use these insulated inner covers in the winter, which help greatly in reducing condensation. So the combination of a winter cover and sugar cakes, I believe, really helps with moisture buildup in the hive.
Many books talk bout using fondant in winter, but I've found it is hard to make, and I'm not sure what the exact benefits it has over just plain sugar cakes, which are super simple to make with re-useable foil pans you buy at the store. We add a homemade essential oil mix to the cakes.
Read more of our beekeeping posts here and watch beekeeping videos here. Thx!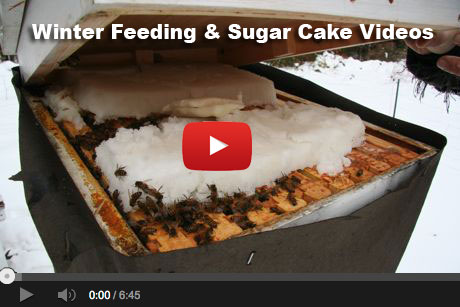 Do you use sugar in your hives in winter? let us know below: