Deck Repair in the winter cold, fun. A friend of mine has a wood deck off his second flooor, its not the most well built deck I've seen, but it came with the house, and its OK for now. But the footings for the columns or posts that hold up the deck are less than great. The posts are not set in cement footers, they are just sitting on the cement-slate patio that is below the deck.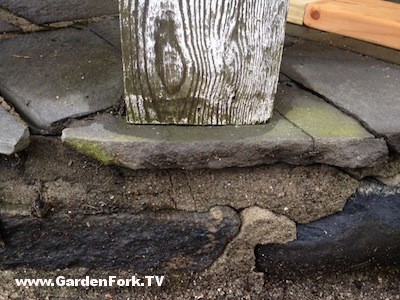 Deck Repair DIY
As you can see from the photos, the posts are on the edge of the patio, and one of them has started to crack the cement. This being the middle of winter, we aren't able to fix this properly, which would entail digging a proper footer. So we put in a temporary support.
Generally this is called sistering. You can sister a floor joist that is weak from termites, for example. Basically you are adding support to the existing column or post, usually by attaching another board of similar size along side the damaged board. This can be a permanent repair or an interim one. Our deck repair is a temporary fix until the spring thaw allows us to dig a proper footer.
Sistering in our project here is not the same as when you would sister a joist, but it does the same thing. It takes some or all of the weight from the original beam or column.
Below you can see how we used two stock 2x6 pine boards in an A frame setup. We cut the boards slightly longer than the height of the original post, and mated both boards where the post meets the deck above it, and slowly tapped the boards towards each other until they started to take the weight of the damaged column. Scrap lumber was used to tie the two 2x6s together once they were in place.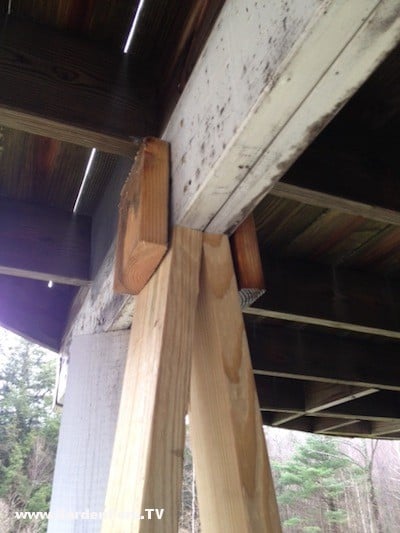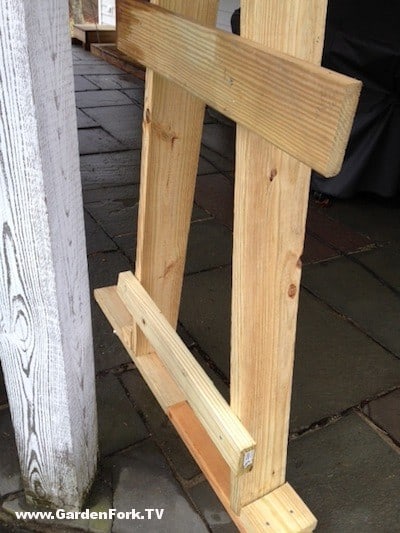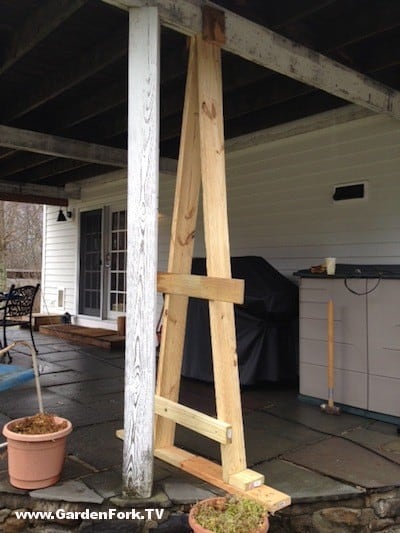 This same technique can be used to take the weight when working on an interior load bearing wall. You put up several of these A frame rigs on both sides of the load bearing wall, then you can work on the wall. I see this a lot when one is making an opening in a wall and you have to slide in a beam to span the wall opening.
So if you have a deck that is sagging, this is a deck repair to keep it up temporarily until you can repair it properly.