These tool cart hacks will take your rolling tool box from good to wow really good in less than an hour. How cool is that?
What are tool cart hacks? They are simple improvements to your rolling tool box that greatly improve its use in your workshop. I've also seen them called tool cart mods. Mods is short for modifications, by the way...
Tools and Parts List These are affliate links
I bought a quality tool cart, but the wheels weren't great. I imagine the brand was trying to lower the price and went with cheap wheels. The wheels were plastic and whenever they hit a piece of grit on the floor, the cart would get caught.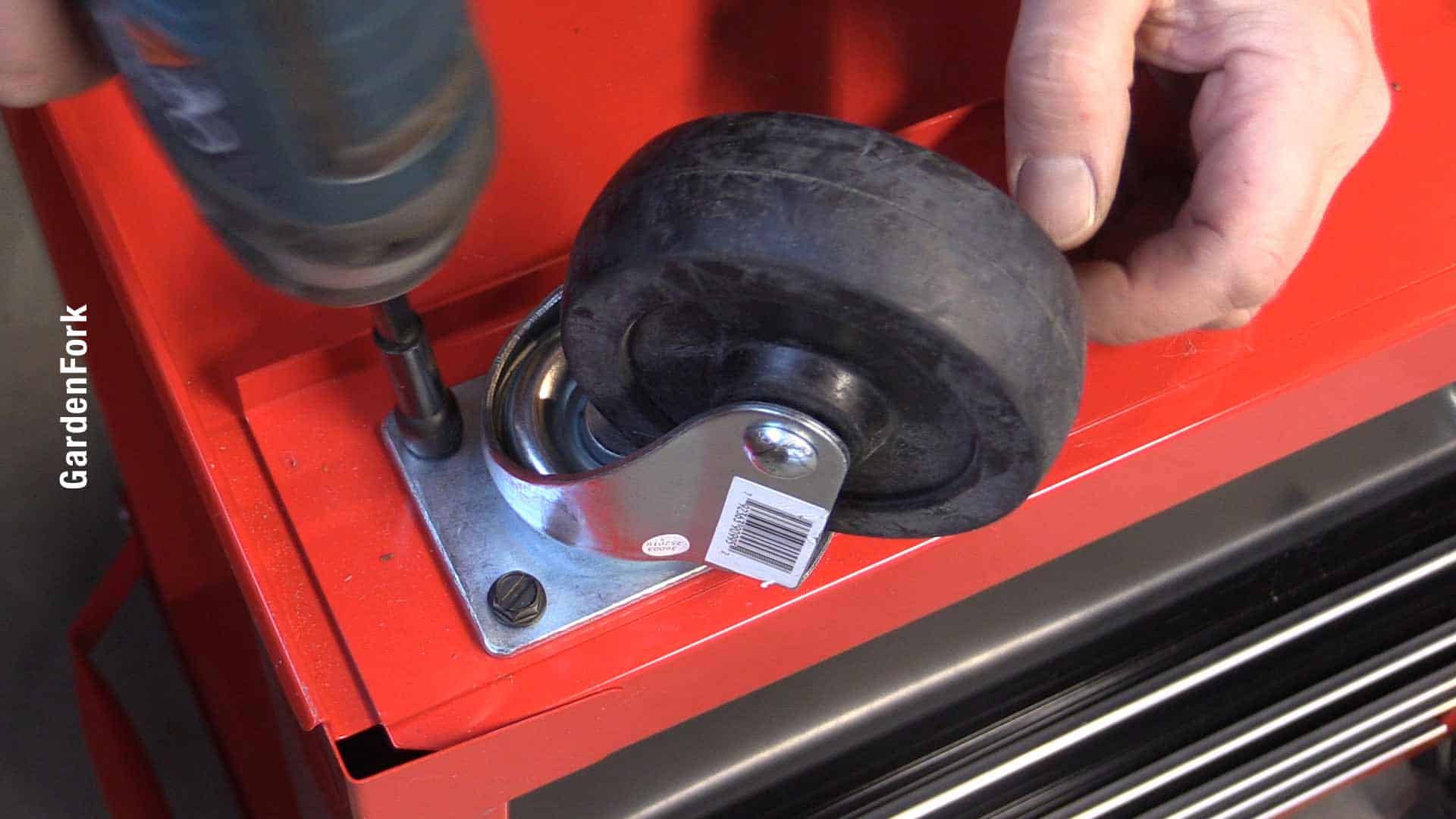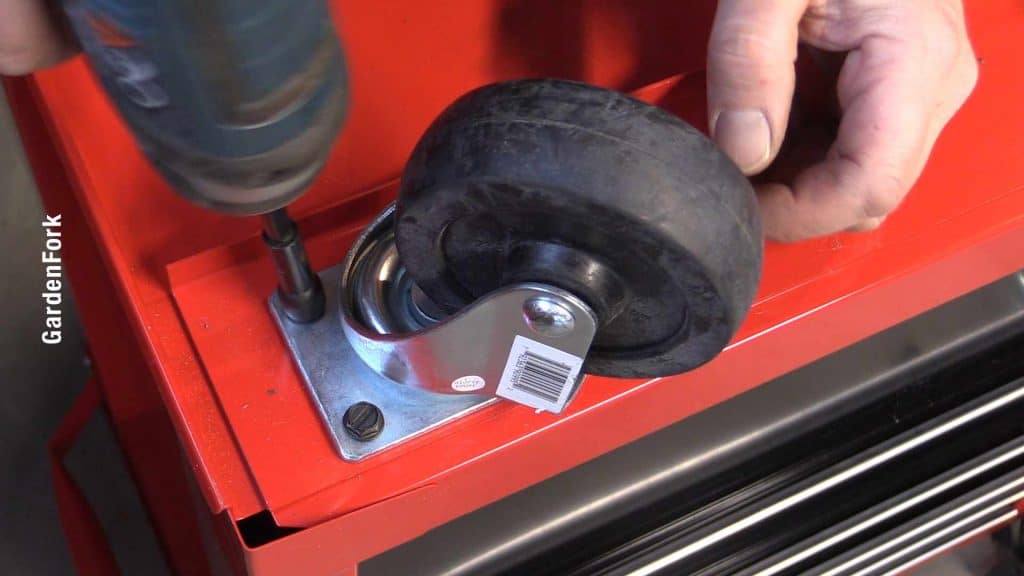 I took one of the plastic wheels to the inexpensive tool store, and bought some decent rolling casters that had the same bolt pattern as the originals. Replacing them took about 10 minutes. Done.
My tool cart hack was to get my socket set in a drawer, yet keep them organized. There are socket organizers you can buy, but I had a simple solution I pulled apart the hinge on my plastic socket case, and slid the bottom half of the socket case into the tool tray. It fit just fine.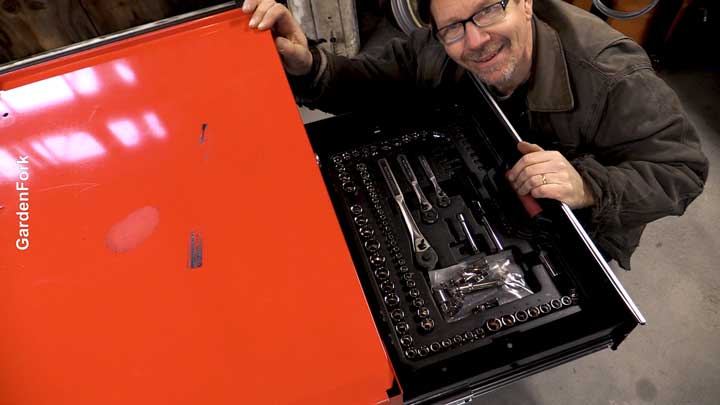 I use the top of my tool cart as a portable work surface, but its hard to hold stuff when you need to work on it, or weld something together. I have had a decent vise laying around (a friend gave it to me a while back) so I drilled 3 holes and mounted it on top. I did not drill a hole into the corner of the top, as the bolt would get in the way of the drawer mechanism. The 3 bolts hold the vise on the cart just fine.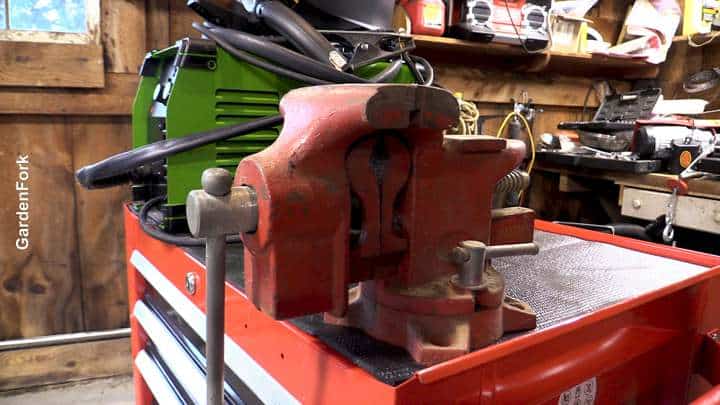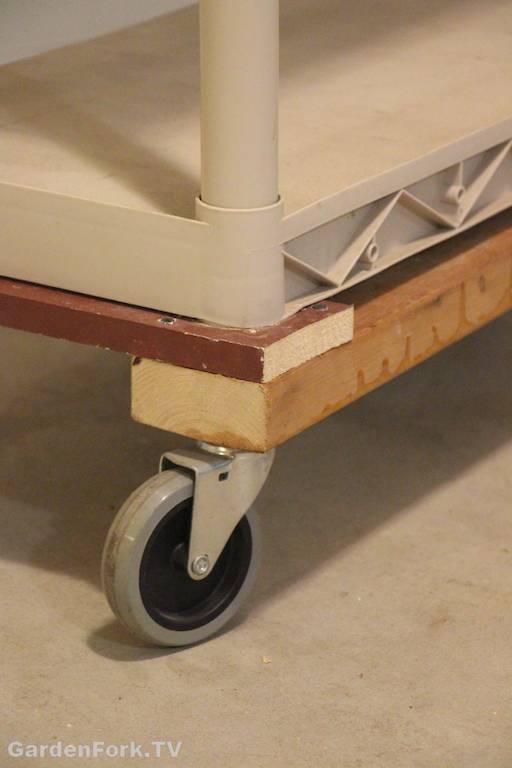 Make these simple DIY Rolling Garage Shelves
My Tool Cart Hacks, the video:
How you doing? You guys like rolling tool carts and Labradors, right?
Camera Operator: Yes.
I just got a new rolling tool cart. I been thinking that I could upgrade it, to make it more than the good rolling tool cart it is right. So today I've got for you and me three tool cart hacks. With a little help from my friends here. Ready?
Camera Operator: Ready.
I don't like these wheels. I mean rolling tool carts are competing on price a lot of the time. And you, ya know you want one that's not too expensive. But the wheels, they get stuck on any little pebble you have in your garage. So I had a simple upgrade for that. Again, not a big fan so let's take the wheels off. They come off pretty easily. At least on this rig it does.
I'll link to the tools I use below. Couple of 'em are nice. So what's really cool about this one. There's a threaded plate in here already. So the nuts aren't falling into the bottom drawer. That's nice. okay next, take this to your local tool store. I went to, let's just call it the inexpensive tool store. You know which one it is probably. This, I wanted to match this same bolt pattern and I upgraded to these. These are a heavy duty rubber caster. These'll roll better, and has the same plate pattern, bolt pattern, and the tool cart comes with two swivel and two locked wheels. And I splurged and got four rolling wheels. Which will make it much easier to push this thing around.
That's my visual for pushing it around. Push this thing around your shop. Learn from me. Don't sock these in tight till you have all four screws in. Now, you can tighten 'em up. A vast improvement! I mean look at that, it's like. What do I do with these now? Let me know in the comments. Can we make something? Should we keep these? Do I give 'em away? Let me know, comments below. Meanwhile, let's spin this some more.
So, like you, I bought a new socket set. Cause, well I got a hole in the roof here, and it rained right onto my socket set and it was bad. So now I have some spare sockets. But anyway, how, you know you got this big case thing and you want to have your sockets in a drawer or something. I figured this out. So you can buy all sorts of socket organizers for your drawers right. Here we go. That kinda occurred to me the other night and I thought, I mean yeah you could tuck it in with some foam or something. But it's already organized, and you just pulled the hinge off. And now you're good to go. I thought, well I was pretty happy with that. You let me know what you think.
Camera Operator: Ouch!
By the way I said three tips, there's four tool cart hacks. The bonus tip will be at the end of the video. So stick around I think you'll like the bonus tip.
You wanna do some welding. I have some welding videos by the way. Or you wanna do maybe some cutting with this. But your rolling tool cart, and I use this as a work surface. There really isn't a way. Well you just, it's hard to hold stuff on top of your cart.
My show is all about "Hey let's try this, "and see what happens". So let's put this on. I mean would it work, I don't know, let's try. Let's mark the center of that hole. I'm gonna use a center punch, so we can drill right where we want to. I really like these step drill bits, they're kinda fun.
Friend of mine gave this to me prolly five, six years ago. It's been sitting around in my shop and I was almost ready to like give it away and then I was like. Work bench, I mean not work bench. Rolling tool cart, I can say that word. So anyway this, right there. Lock washer, kind of interesting bolt came with it. This is that part where you're you're kinda doing it upside down and backwards. So I didn't put this in the video, buy maybe you're like me. I've made three trips to my basement workshop. Just to get the bolts and stuff to put this thing on here. Now I'm like "Oh, I forgot that thing". And I forgot some other stuff so I'll be going back.
But anyway, this on here. Nice! How cool is that? Oh, let me tighten it up over here. All right, nice! All right question for you guys. How do I put these, well, those are sticky drawers. How does this sit in there? Let me know in the comments. Cause I learn from you all right?
Now, the bonus tip. So when you buy your rolling tool cart. It's always got these advertising stickers on it. And I can never figure out a great way to get 'em off. But wait, heat gun. Careful when using this. But, heat gun takes this off really nice.