Want to remove wallpaper from a wall? Serena from the YouTube channel ThriftDiving joins me to walk you through the process. Getting wallpaper off the walls is messy, but its not beyond your skill set. Listen here, then read through the materials list.
Some of the tools we talk about to remove wallpaper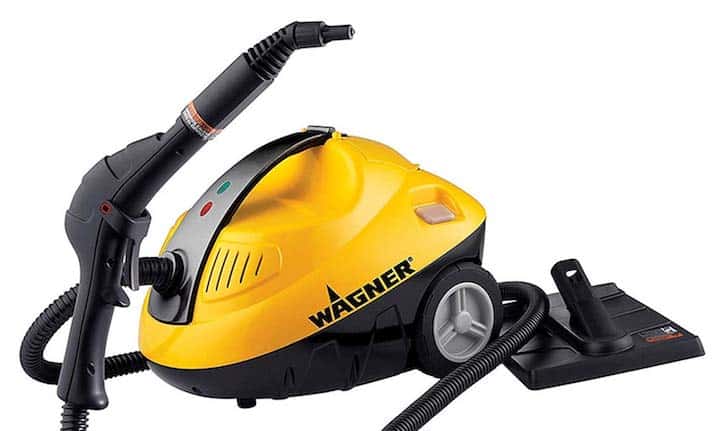 You can rent a wallpaper steamer, but consider buying one if you have a large room or several projects to do. I bought one and used it on several projects, then gave it to a friend who also had to remove wallpaper.
A good wall scraper and a 5 in 1 tool make for easier wallpaper removal. Be careful with the wall scraper, the blade is sharp and you can ding into the drywall or into your hand!
A quality skim coat knife will make your life much easier. Do not buy a cheap one. I prefer a flexible stainless steel 8" knife.
Flavor Paper is the company I mentioned that makes custom wallpaper in Brooklyn.
Here is Serena's excellent video on how to remove wallpaper, she also has written on her blog about wallpaper removal and wall repair.

Eric: Hey, how you doing? Welcome to garden fork radio. Is this your first time here? It's what I call eclectic DIY. Somebody recently described it as haphazard, so maybe haphazard DIY, but it's me and my friends talking about what I think we hope you think are interesting things as well. It ranges from how to fix stuff, to electric cars, to recycling, to gardening, to cooking. Really kind of, it's like a, it's like a big world out there and we talk about it. So welcome. This is your first time. If it isn't, you already know what you're here for, right? It's more of Eric. So today I have on the show, my friend Serena, who I met last year when I went to the Troy-Bilt headquarters in Cleveland, had never been to Cleveland before. I had a really hard time and we met in the lobby of the hotel, me and the, I guess I'm calling him Troy-Bilt ambassador.
Eric: Anyway, as some of you know, I do some projects with him, but Serena was one of the people that was there. She has a YouTube channel called thrift diving and a accompanying website called thrift diving.com and we got to know each other. It was just kind of one of those just, it just blended like boom. Done. There wasn't that kind of awkwardness are, you know, it just clicked very nicely. We kind of had similar interests and she has so much energy and I thought, Ooh, I could learn from Serena. So, and I really have, she's brilliant at creating interesting content, interesting videos and really interesting posts on her site. She just has a really nice voice when she's writing and she's brilliant at like going to the thrift store and making something out of nothing. Uh, it can be something in your house or something you went across in a thrift store and she knows a lot about wallpaper removing it and also about using spray paint. So Serena and I got together on Skype here and we're going to talk about how to remove wallpaper and also how to use spray paint. Ready. Let's go. Hey Serena, welcome to garden fork. Hey, what's up Eric? It's 16 degrees here and it's warmer where you are.
Serena: Yeah, we're at a nice balmy 30 degrees, which is insane because last week it was 75 degrees. I'm like, it's January. Yeah. Oh yeah, I'm, I'm not, you know, it's not that I love the cold, but if it's supposed to be cold, let's make sure that it's cold. Like this is what it's supposed to be.
Eric: So you're down near the the DC area, right?
Serena: I am. I'm in silver spring, Maryland, which is, it's part of what we call the DMV, a district, Maryland, Northern Virginia. So it's, yeah, we say Washington D C but it's all this area. [inaudible]
Eric: all right. I've driven through there, but I've not spent a lot of time there. But yeah, I know it's warmer than where I am here up in the top of Connecticut right now.
Serena: Yeah. I, I I couldn't do that. That's a little too cold for me.
Eric: So you have, um, a really nicely growing YouTube channel with what I think are pretty addictive videos that have a, a very approachable quality. It's not like you're not like the, the the expert contractor from this old house, your Tay. I bought this house and you know, I'm doing it all myself and here's what I'm doing. Yep. And I had two specific things I wanted to ask you about. The first was removing wallpaper and the other one is the right way to use spray paint cause you seem to be really good at both of those things.
Serena: Well, you know, there's a lot of, there's a lot of things that you can do with the camera to make sure that if you have drips with your spray paint, nobody sees them. But yes we can. We can definitely talk about that for sure. Um,
Eric: I, in my previous life as a contractor, I would run into a lot of jobs where we had to take off wallpaper.
Serena: Mm.
Eric: And it's not as easy as they make it sound and yet your video, it was, I was like, wow, that worked really well.
Serena: Yeah. Well I kind of find myself being in this position where, you know, every few years or so I'm removing wallpaper. Like when we moved in this, so this, our house is a 1973 homes. So just to give you an idea of the neighborhood is, it's an older neighborhood. Most of the homes here have wallpaper unless the homeowners have removed them, you know, the new people that have moved in. But there's a lot of original owners that still live here. So there's a lot of wallpaper. And when we moved in, we literally had wallpaper and I would say 95% of the home, every room was just covered in wallpaper. And now, thankfully it wasn't like the really offending wallpaper where you walk in, it's like, you know, big green flowers and Nope. I mean, it was livable for a short period of time, but it had to come down.
Serena: And I remember when we were doing our research on removing wallpaper, you know, you probably have seen some of these products, like it's, there's this little product called a tie, I think it's called a tiger. It just scores. You're supposed to do it in circles or like, you know, wax on wax off type circles all over the wallpaper. And then you're supposed to spray it with water and it's supposed to magically, well it didn't, it didn't happen. Like we tried that and it was just torturous. So I had discovered a wallpaper steamer and it worked brilliantly. I mean it came off pretty good. There was some, you know, I call them Brown paper bag areas, know when you remove wallpaper and you see the, the, the paper of the drywall has been removed. And so now you've got the paper, just they're exposed and, yeah, and so, but, but the thing is, is that not only do you remove the wallpaper, but then you still have all the glue and if you've ever removed wallpaper, you'll know that that glue is, it's treacherous. I mean, not only are you going over with the steamer to remove, well if you're lucky, one layer of wallpaper, if you're unlucky, it's painted and you've got multiple layers.
Serena: Yeah, people do find that as well. Um, but you know, the process that I had discovered that seemed to work for me, it was putting on that steamer, peeling off that layer, but then once all the wallpapers off, going back over with the steamer and then taking maybe like a six inch knife, um, like a putty knife and just scraping that stuff off. Of course, you know, making sure you don't gouge your walls and you know, now no. One thing that's interesting though, I will, I will cut to this because some people are saying, well, Hey, there's a better way. Some people in the YouTube comment to that video and even on another contractor had told me that uh, like wool, light, any of those. Um, what do you call them? Like the dryer, the, I can't think of the name of it. Like the Washington, no, not the magic sponge, but like the dryer, um, he wants some softener.
Serena: Like the laundry softener. The liquid was for like wool clothing to wash. Yes. Yes. And so apparently it's not Woolite but it's any of those brands of like fabric softener. If you spray that, you know, mix it with water spray that he said it just peels off. And I'm like, okay, now I need to find another room with wallpaper cause we got to test that out. I've never heard of that. I had never heard of that either. But he, you know, he said that he said it works and the comments of that video, some people said that works as well. So you know, for anyone who's listening to this, you know, try that. Do, do a little bit of research, Google and find out using fabric softener to remove wallpaper because apparently it works. Now, you know, because I had so much wallpaper, I figured I'm going to go with what I know.
Serena: I'm going to use a steamer. It's a little $50 steamer that I got from a hardware store and, and that was my process. Apply that steamer, peel off that wallpaper, apply this teamer again and scrape off this glue. And then you want to use, you know, some clear water. I used a little bit of simple green just to help clean that wall and still cleaned some of that glue residue because that's really important. If you try to paint over this wall and the glue is not completely, um, wiped off, you'll start seeing little, little spots on your wall, like a little dark spot and ask me how I know, because in my bedroom I've got a little lazy with that, that wallpaper removal and, and sure enough I ended up having to go over it, several coats just to try to cover it up. So don't skip on removing the glue and all of that.
Serena: But the thing that people didn't realize, um, and that I didn't realize when removing wallpaper is that, you know when you have those Brown paper bag areas, you have to fill those in with joint compound and it's called skim coating, right? So it's basically just taking a knife. You can do a six inch, but you know, it's probably better to maybe even have an eight inch and you're just skimming that stuff over those low spots where those paper bag areas are. And surprisingly it fills it in like magic. And once that dries, then you want to prime it and then you paint and you should be good to go. Now if you have multiple layers, I mean it's going to be more work for someone, but I think the process is still the same and I just, if anybody said, how am I going to remove wallpaper, I would tell you hands down you can't go wrong with this steamer and you don't even have to deal with the chemicals because you know some people don't want to use fabric softener.
Serena: There's chemicals in there. So definitely the steam, just water you don't do. Now the, here's the thing, you just want to make sure that you have something on your floors because all that steam is producing water and you will have puddles all over your, you know, carpet or wood flooring or something. Yes, definitely. Definitely have some towels there and be very careful because there are times when when I've reached up over top and I have, you know, gone to pull some of these, this wallpaper off and I'm pulling the steamer back and some of that steam comes up and can burn your hands. So just be very careful. It is. It can be dangerous if it splashes up on you. But it's, it's my full proof method for removing wallpaper, getting it out of your house and just making your house just look more modern. I mean, but can we just say though, Eric, that I know there are some people who are listening to this and they're like, wallpaper is back in style and you know what it is. Did you hear that?
Eric: I know it. I have some wallpaper in my new house, actually. My new old house.
Serena: Yes. I mean, and the thing is, I, I think that wallpaper today, you know, it, it can still be a nightmare to remove, but it is still fashionable. Like people love wallpaper and, and I, and I, I'm not, I'm not gonna lie. As much as I hate wallpaper, I am interested in trying the removable wallpaper. So if it's something that I can just put up and then peel down, sort of like that old contact paper, I'd be willing to try it. But as long as it doesn't require me pulling out that steamer again, then I would try it. And small doses.
Eric: So to backtrack a bit before you do the steaming, do you have to do, um, run across that perforator tool that puts a little dimples in it and then steam it?
Serena: No. No, you don't. I ditched that thing years ago because I realized it didn't work. So when your wallpaper is just there, um, you haven't sprayed it with anything, you haven't done anything to it. You just put that steamer up there, let bubble for let's say 20 seconds or so, and then it should fully melt that, that glue so that you can peel it off from the wall and you'll notice the paper bag, the paper bag area that's occurring when you're not giving that glue enough time to loosen up because you're, you're pulling, I mean it's, it's stuck to the paper, so it's gonna pull it off if you're not giving it enough steam. So when you're pulling back and if you realize, Oh, it's pulling off all this paper from the drywall, then you have to apply a little bit more steam. But just realize that some paper bag areas is normal.
Serena: Like you're not going to just remove sheets of wallpaper and there's no skim coating that you'll have to do, but like that has never happened in my house. You will have to do some sort of skin coding, but I mean the bucket of mud, the joint compound is maybe $6 maybe a little bit more to get the bigger, bigger bucket. But all of that I cover in my video and the walking closet where I was removing this. Yes. A walk in closet was wallpapered this walking closet that had the wallpaper, it's now painted. Although I, I don't really like the color. Did you, what do you think of that color that I chose? It's like a steel blue color. What do you think of that?
Eric: Well, in small doses it's fine. I mean, it's, it's an accent color in a closet, so it's, you know,
Serena: I know, but you know what? It feels so manly and I feel like the walking closet, I want it to be pretty,
Eric: Oh, I don't think of that. I'm a guy,
Serena: but I don't know if I told you that. Well, I did tell you that I'm starting a podcast. I've been recording some episodes but I'm, I'm not launched yet. I wanted to have a place that was small enough to like get really good audio. Cause right now I'm in my basement. I, I have my office in the basement and the audio is still a little echoey but in this closet, Oh my gosh, Eric, it's like a Podcaster's dream. So I'm redesigning this entire closet and I'm going to have a little two foot area that's going to be a desk with enough, you know, space for my tablet and a little chair that I refinished that's also on my YouTube channel. So that's why I want it to be girly cause I planned to spend a little bit of time in my closet. That's why
Eric: actually that is a uh, radio reporting trick. Um, I learned about from NPR, they have some how to, they have a whole series on their website about how to re, how to do radio reporting and publishing and if they are on location or if they have a freelancer or if someone's working late at night, they, they find the coat closet in their apartment or whatever. That's where they record all the voiceovers. They'll read the script on their phone and they're in there with a microphone and all the coats. So
Serena: I love it. It really does work because the audio, and I noticed as I was going back through all the footage of, you know, I took before footage after and all that good stuff and just listening to the footage of myself doing my little intro in the closet when all the clothes were in there, it sounded so good. I was like, wait a minute, I'm, I'm onto something here like this. This really does work. So it's good to know that it, that it works in the professionals do it.
Eric: Yeah. And it's, well, you'd be surprised. I mean, I used to work in that world so that there's a lot of duct tape. So the, um, you were talking about skin skim coating and we use the term a knife and it's, it's, it's a very long putty knife and the more flexible that blade is, I found the easier it is to skim coat.
Serena: Yes, definitely. Now, now I, I, I don't know if I had told you this, but I'm actually in a carpentry program at my local community college. Did I tell you that?
Eric: We talked about the last time you're on. Okay. So, which I think is fantastic.
Serena: Oh, it's so much fun. It's so much fun. I'm actually starting classes next week and I'm doing a, um, I'm taking another electrical wiring class, which I didn't think that I would love electrical wiring, but it's fascinating. It's not as boring as I thought it was. Oh my gosh. It's, it's great. I mean, the things, the things that you learn how to do, um, with wires, I mean, just, you know what it is, it's, it's like, it's like problem solving, right? Like, how do you get these electrons to this particular switch and get it back to a different switch and then get it back? You know, it's just amazing when you think about the steps that you have to take. And this is what we did in class. Like we had a little board and we had switches and we had a little power supply. And so he would draw a little diagram on the board and it would say, okay, you need two, you need one, three way switch here, one, four way switch and you need to power this light bulb.
Serena: Now I want you to wire it in this direction and figure out which wires you need. And I'm like, Oh, okay. Yeah, it was challenging, but it was fun too. I really enjoyed it. Um, but last semester I took a class on interior repairing remodeling and we, we actually did put up some drywall and these little cubicles that we had built and just using the knives, um, was a lot of fun. I mean, you know, when you're doing drywall, you have to work up to that larger knife, right? So you're starting with a uh, with a six inch and then you're moving to like an eight or 10 and then you're moving to a 12 and when I had done my, my drywall, I was just using like, like a little six inch putty knife. There was no give to it. But you're right in the past I've used ones that have given, I seem like it seems like it's a little easier to use, but I also think that people should, you know, try to use the eight inch because you can cover more space.
Serena: And I think that really helps with when you're skim coating and basically skim coatings, when you're putting some of this joint compound on the knife and you're just gliding it over these low spots, all of these paper bag areas or you know, any nail holes in the wall, things like that, that could, could mess up the finish of your paint. And when you're, when you're smoothing it over, sometimes I find with a six inch, if you're trying to work a large area, you, you tend to get those little ripples. So if you switch to an eight inch, you, you get a nice clean skim coat, skim coated area cause you're generally not going to have, you know any huge areas. But you might have some, you know that are two, three inches and the six inch knife is going to make, give you a little bit of problem. Could give you some problems.
Eric: My industry secret is I take the putty knife that I'm going to skim coat with and I take it on a bench grinder or RightAngle metal grinder and the corners which have a kind of a sharp right angle at the very edges of them. I round them off.
Serena: Very smart. Very smart because yeah, because then you end up, if you don't do that you will gouge your drywall and then you're having to go around and fix all your gouges. That's a, that's a good idea. You can do the same with just regular sandpaper though, right?
Eric: Well I like to use a stainless steel blades so it um, if you use that kind of blue metal, a putty knife, you could probably do it. But I mean I got to ride on the grinder there anyway and I turn it on and just, you know, Eric power,
Serena: there's always a good reason to use a power tool. I just look for reasons to pull out my tools.
Eric: Hey, would you like more of garden fork or more of Eric? Would you like to get it in your email inbox? I send out just about every week I send out a little email about Eric's world and new stuff I posted. I even talk about podcasts I've listened to or just interesting stuff and usually almost always at least one picture of the Labradors, Henry and Charlie, you can get that by signing up for Eric's garden fork email newsletter thing. There should be a link in the notes to the show. Just scroll down to the description of the podcast in your app and I'm hope it's a clickable link. It should be or go to garden fork.tv and on almost every page at the top of the page, so would be a sign up. If you're on a mobile device, you might have to tap on the little, there's a little menu bar and then hopefully there will be a signup or scroll the bottom of a post and you can sign up. There should be a link in the app here, more of Eric. It would be fun to have you along for the ride. It's kind of more brain dump Eric.
Speaker 4: Cool stuff. All right.
Eric: The other thing we were talking about, I think getting a glue office, the hardest part because if you lay down, you know if you, if you use a primer, well you're going to put a primer on anyway. You lay a top coat, but if you want to make it the wall look like it's been painted with a roller and it has kind of a stipple. I mean after you've painted a wall with a roller a couple of times, that's kind of a stipple to it. You can hide some of those little highlights. But yeah, I mean the skim coating is a way to go. And then I actually, instead of using sandpaper, if I have to sand any of the skim coat, I use a damp sponge to cut it.
Serena: Yes. Yes, definitely. And I think if, I think if you've done a good job with your skin, and this is the same as with drywall too, when you're, when you're drywalling and you've applied the mud properly, you, uh, you definitely wouldn't need any more than just a sponge. Now, in the past, I've never been that great when I've done, you know, drywall, I've removed sections of walls and I've slept that stuff on, and then the whole room just looks like a cloud of dust because I have to sand it down. So you're right. The better the, the job you do with the mud, the less you're going to have to sand or if at all.
Eric: Yeah. I also liked that you wear a mask while you're doing all that.
Serena: Oh yes. Yes. I, I learned a long time ago. You have to protect yourself. And I, and even now, there's times when, you know, I'm doing things in the garage and I'm like, Oh, I don't have a mask on. Sometimes it's easy to forget. But even just cutting wood, like in fact last week I was cutting these two by sixes. Um, I'm making new stairs. I have this basement, I call it a wizard of Oz door, but it's like a steel way type door, but I call a wizard of Oz. It just reminds me of that movie. And it's a walkout basement. And um, there's two by six stairs that kind of fit into these little grooves that are attached to the cement wall. And, um, and I'm out there, I'm cutting, I'm using this like amazing, uh, new. I'm in this program with home Depot and so they send me all these tools, I get to test them out to, this thing was just a heavy duty rear, you know, rear handle circular saw and this thing just broke and the dust is everywhere.
Serena: And I'm thinking, this is not healthy breathing this stuff in. And, you know, I think if you've been in the industry for a long time and you, you know, even if you have contractors come to your house, I mean, they're supposed to follow a certain, you know, safety things, regulations. Yeah, exactly. The OSHA regulations, but they don't, um, hearing protection masks. I mean, even when we were in carpentry class with all of the drywall sanding that we were doing, you know, it wasn't, he wasn't adamant like, okay, you need to have your mask on everybody. You know, he was adamant about eye protection for sure. Right. But with the lungs, he was just like, you know, if you want to mask, here are some masks. But it wasn't like, okay, everybody needs to have this, um, protection because it's dangerous for you. So I definitely, you know, on my channel, whenever I'm doing projects, I try to be the exemplary, uh, of safety when I, when I remember.
Serena: Um, but it's become even more ingrained in me to do this because what we do on online, people are following what we're doing. And I mean, I remember years ago when I would be stripping furniture and I would think it's really funny because I have, um, you know, stain all over my hands, right? Look at this picture guys, look at all this day and all over my hand. And I would take that and put it in a blog post and now I'm thinking, what in the world were you thinking? Like, you aren't staining without gloves. This is not funny. This is not healthy for you. So, you know, as I become, um, you know, as I get a little closer to being a licensed carpenter the way I would like to be and, you know, getting more experience in the trades, I'm making safety more important. But you know, there've been times, I mean, good example, we had guests about a year ago, we had some, uh, bricklayers come, some Mason masons that came and fixed our, uh, chimney.
Serena: And it was so dusty and I looked out there and nobody had masks on, none of them. They had. Yes, they had handkerchiefs on their face. And so I, you know, I just bought a new set of masks. So I went out there and I'm like passing them out to everybody like here, make sure you, and it was loud. There was, they didn't have any ear protection. And um, I think sometimes when you're, when you're in the trades and you do it all the time, it's easy to kind of get a little sloppy because this is time is money. You don't have time to stop and put on the mask and the earring hearing protection. But you know, to me it's important. Sometimes I do forget, but then I'm like, Oh, wait a minute, hold on. Forgot that. Let me go do that. Important.
Eric: So we were, you mentioned that a wallpaper is on the rise. I actually have a video about me hanging wallpaper and of course something went wrong and I left it in on purpose, you know, cause that's, it's the real world. It's the world of the imperfect, how to, as I call it.
Serena: I want to talk a little bit more about that. Keep the, keep that topic there, but go ahead and tell me what you're going to tell me cause I have something important to tell you about that.
Eric: All right. Well we were talking about wallpaper on the rise and, and our brownstone down in New York and Brooklyn, we have some acts I their accent wall. It's wallpaper but it's in wallpaper. The whole room. It's just a part of a wall. And um, I can't remember the name of the company there. It's from England and it costs a bajillion dollars but it's beautifully printed cause I have some experience in printing, you know, analog ink printing but in industry city, which is right near my house in Brooklyn, which is this um, set of old warehouses that are, is filling up with internet startups and stuff in a food court and, but there is a custom designed wallpaper company there that has a storefront called flavor paper flavor paper and right. It's like a open office. They're designing custom wallpapers for people and then they have these giant printers right there that print that will print out a roll of wallpaper for you.
Serena: Oh, that is so amazing.
Eric: I have no idea how much it costs, but they're beautiful. Really beautiful wallpapers.
Serena: I'm going to have to look that up. You know what paper, you know, even if you don't want to put wallpaper in your house, there's a lot of DIY projects that you can do with wallpaper. If you've got a bookcase bookshelf and you want to line the back of it with wallpaper. Um, you know, maybe, maybe it's not for books, but maybe you've got some other things that you want to highlight in your room. Wallpaper can really set that off. And you could also do like the fronts of cabinets or you can do, if you have a dresser, you know, maybe it's a plain Ikea dresser and you've always wanted to kind of jazz it up. You could do wallpaper on the front of that and you could even do scrapbook paper too. I mean, if you don't want to pay the cost of wallpaper, cause that, you know, as you mentioned, it's very expensive.
Serena: You can do scrapbook paper and line the front of your dresser drawers. You can also do the do the inside of your drawers too, which is really fun because maybe, you know, maybe the outside is just a basic wood, but on the inside you did something fun. So every time you open it up, surprise, there's this beautiful, you know, paper inside. In fact, I did that on a project and it got a lot of mixed reviews because I didn't have one solid color wallpaper, so I did sort of like this patchwork of floral wallpaper, but it's so cute. And you know, I know I'm looking at the vanity right now. Um, it's actually one of my, my highest viewed videos on my YouTube channel and you'll, you'll be able to see it there. Um, it's the one with the vanity and I think it's got maybe 2.1 million views, which is insane.
Serena: Um, but there were mixed reactions. Some people loved doing the lie, the paper liners and the drawers. Some people thought, ah, you just ruined it. But to me, whenever I open it up, I love seeing it and, and honestly to get that to stick. Um, you know, if you're just using wallpaper or not wallpaper, scrap of paper, you can do something called mod podge. It's really cheap. It's like $6 for a bottle. It's a glue, but it's also a sealer, right? Because if you're lining your, you can even line a desk, the top of a desk, if you're using this, this a wallpaper, I'm probably even wallpaper. But if you're using, let's say scrapple paper, you, you don't want to spill anything on it and then the paper's ruined. So you can just do maybe one or two coats of, of this mod podge. It's a deck [inaudible] basically. But the brand name is called mod podge. You can do one or two layers. They've got a satin finish and then there's one that's glossy. I tend to like the sat in one better and um, and it just seals it in. And so now you've got some drawers and um, you know, dresser fronts that just look amazing with these pops of pops of color.
Eric: I would've never,
Serena: yeah. And also too, you can line, you can take fabric. I mean, gosh, my mind is going with all these different ideas. You can even take fabric and I've done this where I've lined, I found these two, Oh gosh, I don't even know what, I forget what style of of end tables they were, but they were, they were actually bedside tables and I painted them and took some really cool, like a fabric that had French writing on them and I'm mod podge them to the front of these, these bedside tables and look so good. I'll have to send you a picture of it. You want to link to it. Um, but yeah, but just using the mod podge sealed it in, made sure that it wasn't going to come up at the corners and you know, protects that fabric so that it's like waterproof. So just lots of fun ideas.
Serena: Who knew? Yeah. Well we're almost at a time, but we were going to talk about spray paint a little bit cause I think people use spray paint badly and you seem to quite good at it. Yeah, I, you know, spray paint is the first thing that I had gravitated towards when I started learning how to paint furniture or I should say teaching myself how to paint furniture. And you know, you, you can use spray paint to paint furniture, but I tend to tell people, you know, keep spray paint for the, the like let's say the planters or you know, if there's flower, you know, other flower pots or if you want to, you know, any small little thing that you want to paint. I think spray paint is great furniture. I think, eh, stick with the furniture paints for the big pieces of furniture. But in terms of like getting a good finish like you, you have to look at the surface and say, okay, is this going to be a good surface to spray?
Serena: Um, they actually make primers that go in the spray paint. So if you go to like home Depot, Lowe's, any of these stores, you will actually see spray paints that have primer in them. But you should probably, if you want this to last, if, if, if this is something that you're going to use. Like for example, a couple of my videos I did play house make-overs, you know those little Tikes plastic playhouses, they've done really well on my channel. And if you watch that video, you'll see some people comment unit and use a primer. It's gonna scratch. The thing is I was just trying to get the project done so, but if you are spray painting anything that has like plastic, definitely you can rough up the surface a little bit with maybe let's say like a 100 and no, I would say like a very fine two 20 grit sandpaper.
Serena: You have to be careful because if you're, if you're doing something that's plastic, any of those scratches could come through the paint. But if you don't want to rough it up, just make sure that you're using the primer regardless because that'll help it to stick and then wait till that dries and then use your spray paint. But here's a little tip. So if you're a dark spray paint, try to find a primer. That's a dark, they have dark primer, like a dark gray because what will happen is if you use let's say a white primer and a dark spray paint, now you've got the white coming through and you're going to have to use more spray paint just to cover all that white. So dark color, dark primer, light color, light primer. And then also too, if you're spray painting metal, um, I had done some videos with Rustoleum over the summertime and um, if you're painting metal, you definitely want to get there.
Serena: The, the spray paint, that's for metal cause it'll help to prevent, prevent rust and they actually have metal primers too. So keep that in mind, make sure you're using the right spray paint. But then also to, you know, a lot of times if you're spray spray painting something your finger gets, I don't know if you've spray painted recently, but your finger gets so tired as you're trying to spray this paint. And if you're getting tired in your fingers only pressing down a little bit, it's going to start sputtering. So I would recommend, I don't know if other brands make this, I know Rustoleum does. It's a little handheld trigger that yeah, it just basically just snapped onto the spray paint. So when you pull that trigger, the top, you know, the little thing will come down and spray the paint spray paint for you if you go to spray spray gun.
Serena: Exactly, exactly. And I think that's good too for people, especially people that might have arthritis in their hands. It's hard for them to get that, that fine motion of just continuously pushing this little, you know, nozzle spray. So definitely, you know, use one of those little, um, I don't know the name of it, but you could probably link to it down below in your show notes. Um, that works really well when you're spray painting. And then in terms of distance, you, you want to keep it back probably about six to eight inches, but do a test first because what I found is that certain spray paints, I don't know why some of them come out really fast and then some of them just seem like they're just very low. Like a very light mist. So get a feel for the spray paint before you do it on your actual project.
Serena: And what I would recommend, you know, those lazy Susans that you can put in the middle of your table and when you're having like guests over and you put the lazy Susan there so you can turn the food. I'm probably aging myself, but in your cabinet you probably have a lazy Susan too, right? Um, if you have a way to easily turn your project, what's that? Yeah, the thrift store does. Right? Um, and you can even make a lazy Susan too. It's very simple. It's just a lazy Susan. You can get to two wooden. Um, if you go to home Depot, they've got these little, Oh gosh, it's, if you look it up, it's called a lazy Susan hardware and it's basically like ball bearings and two squares of metal. And you would just take, you know, two pieces wood and just put them together and put that little lazy Susan in the middle.
Serena: Because when you put your projects on there and as you're spraying, you can easily move this thing from side to side so that you can keep going. Otherwise you have to move yourself when you're spray painting. So that could be a fun project to do. Make a lazy, there's an, and then you have something to set your projects on when you're spray painting. Um, and you want to keep it going too. So, you know, definitely don't get close because then when you're too close, you get the runs. And if I get runs in my spray paint, I try to just take a little towel, like a lint free towel and just kind of dab them. And if you dab them and then spray over it, you should be able to cover it up. But once it dries and you've got runs, you're not really going to be able to stay on that cause it'll, it'll turn very gummy. So you want to catch those runs when you're, when you're doing your spray painting, don't wait till it dries and just keep it at a healthy distance. Wow. That was pretty good for for Oh my gosh. Wow. I know I talk a lot to get a lot out in person.
Eric: That's, so I actually, it's kind of my one thought is the whole idea of buying a darker spray paint primer is totally like when you paint a room, I always take the top coat color and dump some into the primer
Serena: [inaudible]
Eric: so I tend to primer with the top coat.
Serena: Very smart, very smart. There was one other thing I wanted to say. I meant to, I meant to tell you this as you were telling your story, remember that comment you said a few minutes ago and you were talking about you, you were, you were putting up wallpaper and you made some mistakes and I said, I want to, I want to tell you something about that. I was going to say that I love, that's the kind of way that I, I organize my videos. I love that when, when we put ourselves out there and we make these mistakes because you know, we're, we're creating content for people to learn from, right? We're not, we're not just entertainers. We're not trying to just, you know, make your evening go faster and just give you something to smile and keep going. We want to teach you something. And so I did a project yesterday, in fact, I don't know if you've seen it on my channel, but it was a chair, like a rocking store chair that I got from the thrift store.
Serena: And um, I was going to refinish this, but I was going to use wood repair markers, no painting, no stripping nose re-staining, anything like that. And the chair turned out beautiful, but I had a little mishap because in the packet of markers there was a little alcohol, a little alcohol pad. And it says, if you put too much marker, can you know, wipe it off? Well I did. I said, well, let me try this out so I can show people how it works. And I took the alcohol pad and I wiped like the entire side of the chair and it started drying out and it looked horrible and I left it in there. You know, and I told people, when you're using this, make sure you only put this on that little area, do not wipe your entire furniture. And the brand that I was working for, um, to do this using their product, they were a little, uh, they were a little worried that I'd put that in there.
Serena: And I think I, the reason I'm bringing this up is because, you know, if a lot of times brands don't realize that what may look like a negative thing is actually a positive thing. Like people want to see us make mistakes because it shows them what could happen and what not to do. And so I just wanted to tell you that little story because it was, it was kind of funny when I found out that they were worried that I'd put that information in there and I'm like, they don't realize that's a good thing. Like we have to show mistakes because it makes us human. And then it shows people how to use this product without, you know, destroying their pro, their project. It wasn't destroyed. The chair actually turned out. It's beautiful. It looks really good. But yeah, I just wanted to share with you keep putting the mistakes in there because people love to see us mess up so that they don't mess up.
Eric: I saw the thumbnail of that video on your, on your channel. I just haven't watched it yet. Um, I kind of, I find myself going down a rabbit hole with YouTube on my iPad and then, and I'm like, I got to go back to work, you know?
Serena: Yes, I do that too.
Eric: All right. So we can find you on Instagram and YouTube. Is there any other, any other social places that you'd like to go?
Serena: Well, I'm pretty active on both of those. YouTube is kind of really become my number one, but you can find me thriftdiving.com. I'm putting out blog posts and I respond. I try to respond to every comment if I can. Um, but yeah, I'm like thrift diving is just a community and come check me out.