Let's talk 5 tips for fall lawn care. These are easy free or low cost tips you can do in the fall to prepare your yard for winter. Barb from Troy-Bilt joins me as we talk mulching, raking, pruning and more fall yard care.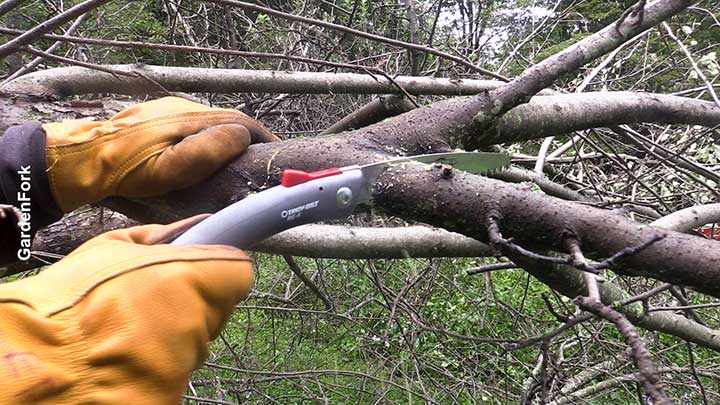 Doing some fall yard prep makes your lawn look better in the spring. To me, for some reason, it seems I have more time in the fall to get stuff done than spring, how about you? But a lot of people just focus on getting the leaves off the yard and then they are done for the year. There is more you can do, and it doesn't have to cost a lot of money either. Most of these tips are free, listen to the podcast and read on to learn more and about our 5 tips for fall lawn care and links to related videos and posts.
5 Tips For Fall Lawn Care:
Seeking Greener Grass? – An easy way to help your grass stay green and healthy is by leaving grass clippings on your lawn after you mow. Your leftover clippings help grass and soil benefit from valuable nutrients often found in fertilizer – including nitrogen, phosphorous and potassium. Mowing regularly will also help the clippings break down and leave your grass looking green and fresh.
Have Brown Spots? – It's difficult for grass to grow properly in shady conditions since it requires abundant sunlight. To prevent patchy or brown spots in your yard, ground covers are a great alternative, as they require little to no maintenance, and provide nutrients and protection to the soil. Depending on the look you want, you can choose perennial groundcovers like sweet woodruff or evergreen ground covers like glacier ivy.
Want Healthier Plants? – When it comes to pruning, there's a right time and season for different plants. Don't prune dormant plants like crape myrtle, butterfly bush and fruit trees in the summer, but be sure to shear hedges and deadhead perennials like lilacs, azaleas and rhododendrons when they are finished blooming for the season.
Lawn Seeming Dull? – Alternate your mowing direction each time you cut your lawn to maintain and improve grass strength. Mowing constantly in the same direction inhibits grass growth and compresses soil. To make your lawn really stand out. Try mowing patterns like plaid stripes and diagonals.
Flowers and Leaves Drooping? – Summer heat often brings drought, which is why you need to water your plants deeply and weekly to promote healthy growth. As a general rule, your lawn and garden plants need about 1"of water per week to promote healthy growth. It's best to water during the early morning to allow plants to properly absorb the water before it evaporates.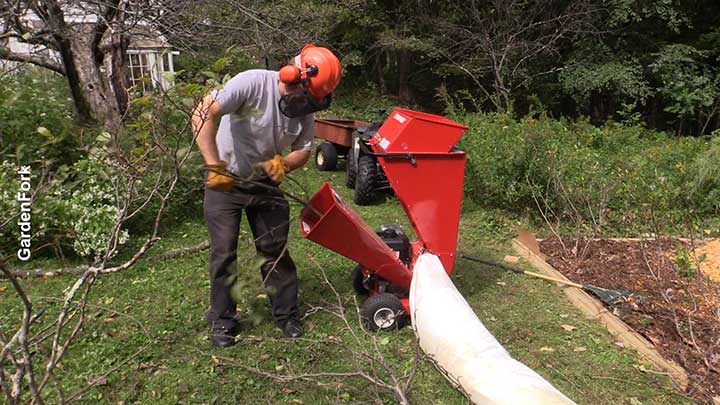 We talked about some videos I have made with Troy-Bilt equipment: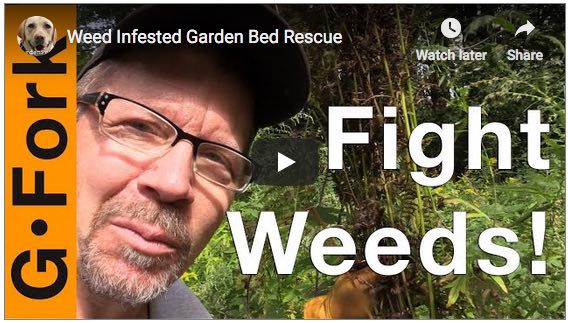 Eric: Hi, how are you doing? Thanks for downloading garden fork radio. If this is your first time here. It's a eclectic DIY. It's me and my friends talking about what I hope is interesting to you. It's interesting to me, just the gamut of stuff. It can be DIY and how to in home improvement maker topics, gardening, cooking, wherever our brains take us, which can be a dangerous thing. Anyway, today I have a special guest. I have Barb from Troy belt on the show. If you've listened to garden fork for any amount of time. Troy belt is a sponsor of garden fork. I've been working with them I think four years now and every year I've worked with them. I have met with them at a get together meet up thing. I don't, I'm not quite sure what they call it, but I had met Barb the first time I was there and every time I go me and Barb get the hang out together. So it's more, yeah, it is a relationship brand relationship, but it's also kind of a friend relationship as well. They are down to earth, hardworking people. And you don't get that every day in the world anymore, so something to think about there. But we are going to talk about some summer and fall grass growing lawn maintenance tips and stuff that Troy Butler's come up with and I also have some ideas to talk about as well. So let's go talk to Barb. Alright, here we go. Hey Barb, how are you doing?
Barb: Hello Eric. Good to hear your voice this morning.
Eric: Yeah, the last time we were together we were in Cleveland and I had a really fun time there.
Barb: I know we did a, we lucked out with good weather that week and a had a great project over at Providence House. I've been following that project on Instagram and it looks like it's really been filling in well and that the children there are really enjoying that area.
Eric: That was for people that haven't listened garden fork in awhile. Last time I went with Troy, but well, every time I get together with you all, we do a community project and I thought that was the best project we were went to. It's a, it's a house that has been outfitted to deal with at risk young children. And there was this yard and we turned it into, we turned half of it into a really nice garden.
Barb: We did. Yeah. Providence House in Cleveland. They're a critical care facility for children. So they work with the parents and the families to, you know, create a plan to reunite everyone and yeah its children from newborn up to 12. So they had a, they had some great yard space there and playground equipment, but they didn't have that kind of quiet garden type environment to to relax then. And I know the staff is also enjoying that area as well as just the little breakaway point. And I do have to check in on how the pumpkin patches is growing cause that was a you know, seeds when we left in May. So it ought to be putting out some little baby pumpkin's here soon.
Eric: I would hope. I don't know. I got to use power equipment. So I like that. So,
Barb: And you did an excellent job Eric. So safety first. That was important.
Eric: So I, I am your average lawn yard homeowner guy and I'm, I only have a limited amount of time to make my yard look like something. And my neighbor who was a good friend of mine, his yard looks like a golf course, you know, but he spends a ton of time, a, he's retired. He has a lot. He has some very large equipment, lawn equipment. And I'm like, you know, I want this to look nice, but I don't have a lot of time. And you had some ideas and I had some ideas also. So do you wanna you wanna throw us one of your ideas?
Barb: Sure. I, you know, for follow on care, I think you can almost narrow it down to four key tasks to do in the yard. You want to first of all just clear the debris, you know, storms over the summer, bring down branches and you know, just different things coming down. So kind of pick up the debris get that out of the way. If you leave it on there can start to really suffocate the grass up. Got Too much of it. So if you clear that and then as the season starts to wind down, you want to mow your grass a little shorter for the, the wintertime and it really, cause I'm not going to have any significant growth over the winter anyway. And it'll help keep that you know, mulch down. Then you want to irrigate to help break up that soil and move the water around and then probably give it some fertilizer.
Eric: I think I want to hire one of those lawn care guys that come through and just air rate the whole lawn with that giant air raid or plug plug machine.
Barb: That's not a bad idea. Yeah. I mean not that, not that there aren't a, you know, aerators out there that you can, you know, they can attach to the back of our riding lawn mower or push versions. But you know, it can be a lot of work. They can get really heavy as you're, if you don't have something to pull it with, like a lawn tractor or an ATV depending on the five-year lawn, I think that's hiring someone to do that is probably makes the task a lot easier.
Eric: Yeah. One and done. And just like, here you go, here's your money.
Barb: Hm. Hm. See you in the spring.
Eric: I didn't, I did not know about cutting lawn a little shorter like that, but that makes sense because I think the taller grass can get matted down a lot easier and if it's short, you're kind of good to go.
Barb: Yes. Yeah. And if you keep it just a little, like slightly shorter than normal, it helps prevent snow mold too. If you're in the northern region for that. Pretty much we, you know, during the season, a cool season grasses up kind of in the area where you're at or you, we generally say like two and a half inches. The three and a half inches tall during the summer. Yup. That little higher helps shade the grass and not have it burnout. And then in the warm season grasses, like I have down in North Carolina, we kind of keep ours between one to three inches in height. And then yeah, as a rule of thumb, we would say never cut off more than one third of your grass height. So that helps to keep smaller clippings and they'll be composed easier to fertilize your lawn more rapidly than contributing to fache problem.
Eric: And you're, you guys aren't just making this up. You actually, I have been to the, to the testing grounds, the testing grasses, which is this huge field with different grasses. You're growing.
Barb: We do, I think we grow 20 different types of grass back in that field. So that we can test the quality of cut in anywhere almost in the world. Because they, they grow differently. They have different textures to them. They respond differently when a blade comes across it and different growing conditions. So we've really you know, we do go to the extreme in our testing. As you also saw there mowers in particular you know, go through some very extreme testing. Do you recall the for a mower to test the blade that the blade will stop? We actually throw away steel stake of like up through the middle of the floor to make sure that that blade stops and doesn't shatter. We throw, you know, buckets of ball-bearings and nails into the mower, can make sure that the bags don't that they don't come through the bags and they don't, you know, wouldn't injure someone as you know, if they were to pick up something like sharp like that.
Eric: Yeah, I got to see all that. It was pretty amazing. So basically there's a concrete floor with this metal plate and then you push a lawnmower over it that's running and you pull this chain and under the metal plate it's like a little, a little trap door opens and this one inch steel rod that has a spring underneath it, gee, you know, basically comes up through the floor and gets whacked by the mower blade and what you all are testing. And I was fascinated by, because I'm like that kind of thing is will, will the mower blade shred, will it shrapnel out and hurt somebody? And you kind of had this wall of just just broken mower blades and it was pretty phenomenal. So it's not just, you're not just cranking out mowers and solid them. You're actually testing that. And then how the grass, how those mowers perform on the grass, that must be 30 acres of grass you have there or something.
Barb: Oh, we have a lot more than 30 acres. I think overall the campus has over 400 acres, so.
Eric: Oh, okay.
Barb: There's, yeah, it's all up and down the road. It's, you know, as you know, we're kind of out in the country so it looks, it's a much more spread out than it initially appears.
Eric: It's a, it's a giant place. I was like, when are we gonna get there and all of a sudden boom. And we just kept on. We were there but when we kept on driving. So it was fun though.
Barb: Yeah. We're happy to have you out there. And along with the other influencers and kind of showcase that and I know you've got to experience firsthand some zero turn rider testing on the metal ladders
Eric: That was on Instagram. I saw [inaudible] when you guys had me put on the GoPro on my head and then drive over the, it's like grow driving over steel, giant steel rebar with the machine and that Kinda, that was a jarring experience.
Barb: Yeah. Over and over. So you, you think about our testing department, which you know, very than how many people are on staff, but you know, 20 plus than any given time of the year. And you know, your, your job is, it's really to test, to fail. Like you want to know where that point, that failure point is. So you can design a for that. And you know, again, safety, safety first. So that's, that's really the main reason for testing is to ensure that the products that go out are, are, are safe. And you're, you know, if they can survive the environments that we put these products into and the test that we put them through, then they should certainly perform well for you in the yard. One of the hardest tests in my mind is something we do for tillers where we kill a pile of rocks.
Eric: Oh, I saw that. Yeah.
Barb: Yeah. And this test, whoever gets assigned to that is not just going to do that for an hour. They're literally out there all day killing rocks. So when you think you're having a bad day, think about the Troy-Bilt guy who has to chill rocks all day.
Eric: Yeah,
Barb: Sure. That the product stays safe. So and you know, you can see a lot of the videos. We created a whole video series called how we're built. And if you go to our youtube channel, Detroit about Youtube Channel, you'll find oh, I, there's must be 20 some videos there, product categories, and you can actually see these tests that we're talking about including the tilling the rocks, including the metal steaks up under the walk behind mowers, the ladder tests. It's really quite impressive if you're not used to seeing that type of testing go on. Hmm. It's, it's, it's pretty incredible to see.
Eric: It was fun to watch. I'm glad I didn't have to run out. You didn't make me run till rocks. Thank you.
Barb: Oh, you're welcome.
Eric: So somebody asked about I asked some people and someone said what do I do about Brown spots in my yard? And I actually have one of these in my yard, so what should I do?
Barb: Well, you know, Brown spots can be caused by a number of things. Sometimes it's a shady conditions. Sometimes it's just not enough nutrients getting into the soil. So you know, you might, depending on where the Brown spot is, you might even want to consider just planting our ground cover in there instead of the grass, if that's something that works for the area. Otherwise you might want to take a soil sample to your local extension office and see if he might have any grub issues or something else going on in the Ph of the soil to really address what you need to do the fall. But if it's too shady, you may have to look at trimming, you know, limbs off the trees or the shrubs, whatever's if it's something like that that can help.
Eric: Yeah. I have two sugar maples in the front yard and they, they seek sunlight, you know, cause they're, you, they just kind of, it's amazing how fast they'll shoot out tree limbs into the yard and then that part of the yard just becomes there's just no grass there. And I, I did a s a seed mix of shade grass and you know, I kinda have a healthy mix grass, but it's not cutting it. So I think I got to throw some, I like the sugar maple growing, so I think I might throw in some kind of ground cover in there.
Barb: Yeah, I like 'em. I like pack of Sandra, myself, Ivy, you gotta be careful where those, as you probably know that can get invasive in some areas. So kind of the slower grow. I like the Evergreen is pat, Cassandra and evergreen. Yes. I know my mother grew it in Ohio for, you know, either. So that was a test question. Barb, did I pass? Was that an extra, we've had an extra credit question.
Eric: Yeah, yeah, I'll buy, I'm buying the drinks next time, so,
Barb: Ooh.
Eric: So health, another topic here is healthier plants and pruning cause in the fall, I mean, people are always asking me when's the best time to prune? And my answer is usually when you have the pruners in your hand, but that's not necessarily true.
Barb: You're correct. You want to be careful when you prune so that the, you know, some plants, they're setting their flower buds and new growth for the following year. So you don't want to impact that, but I think it's a always safe to say that any diseased or dead branches, damaged flowers, shoots, et Cetera, can be removed at any time. Right. and I, you can spin out when you see, you know, typically on trees you don't want branches that are crossing each other. So you want to thin those down.
Eric: Yeah, I might, I have some apple trees and they are notorious. I was trying to prune them into like an arching habit and they are notorious for crossing because when they're little twigs that doesn't seem like a big deal. But as they, you know, you get the one inch thick and they rub your rubbing the Barco way. So it's like constantly someone rubbing on your leg and it creates an open wound and so, and then bad things can get into the tree. So.
Barb: Yeah, absolutely. That's why it's important to, you know, consider what gardens though you're in to when the right time of year is to prune back. You know, we're in North Carolina, it's still pretty hot. So we'll wait another probably month or so until we do a good, heavier pruning.
Eric: Okay. This shout out has been a long overdue on my part, probably years overdue. But with Troy-Bilt is an agency called Marcus Thomas that they basically put together the Eric GardenFork - Troy-Bilt relationship. I just wanted to thank Erin and Aya from Marcus Thomas and then also a big shout out to TJ at Marcus Thomas. TJ, I cannot pronounce your last name, so we're just gonna leave it at that. But there's only one person at Marcus Thomas named TJ. So just a thank you to you guys cause you are the glue that made me be able to link up with Troy-Bilt. That was pretty cool. All right, back to the show.
Eric: The next the next thing on our list here is is something I used to try to do and then I'm just reading this kind of made me realize again is you guys are suggesting to alternate your mower direction.
Barb: Oh absolutely. The moment so you can get creative if you want. And if you've never, you know, Google search, like, you know, mowing lawn patterns like you see on a baseball field and other professional sports fields,
Eric: I've never done that.
Barb: Really creative. Oh, you can do some really creative patterns of difficulty to get the best result. You want to have like a roller on your mower so that the grass can be, you can roll in different directions so the grass lays a different way and then that gives you that dark and light variation. Huh. But but just not mowing in the same direction every time. It's just healthier for your grass because your grasp, Kent will tend to remain upright and not kind of bend one way or the other, which then, you know, you could get like a sun scorch on one side because it's always laid over that side. I think another really important thing to keep in mind and you know, we see this in the news is please do not put grass clippings out onto the street. It's dangerous for motorcycle bicyclists.
Barb: My rule of thumb is always two passes, putting the clippings into the interior of your yard. So two passes along your driveway, two passes along the street side to keep those clippings from being out there. Once you get two passes in, you're typically good. You'd wanna continue to mo discharging into the area you've already cut. But you know, that can just be not a good experience for others out there when the clippings are out in the street. Yeah, I haven't had it really does that. So I mean, if you're not going to go out with a leaf flower or a broom, you know, afterwards, it's just easiest due to passive blowing the clippings to the interior before you kind of reroute yourself the other direction. Now go a long way towards alleviating that problem. You know, if you have problems finding time to mow a Tory belt launched on both Alexa and the Google home skill.
Barb: A most scheduler, no. If you download, you know, the app and sync your calendar, then you can ask Troy, when should I mow this week? And the apple, look at the weather conditions in your area, your calendar, and it'll say, hey, how about, you know, Thursday at four looks good. Would you like me to schedule it? And then as we all lead the super busy lives, it it always helps to have it on the, on the calendar, right. Get that reminder, wow. That if I do something so, so it's like a virtual virtual clipboard of, of stuff to do. Yeah. Yeah. And if the weather patterns change or your calendar changes, then the, the the astroid app will say, Hey, you know, though it looks like it's going to be rain on Thursday. How about, you know, Wednesday night or Friday morning or whatever, you know, seems to work best with what you've got on your schedule.
Barb: But just kind of a way to help you know, plan for it. You know, we, we hear it with a lot of things, right? You wanna you wanna pay yourself first. You want to schedule time for exercise. You know, everybody's all about on this, you know, putting it on the schedule. And if you've got a busy family life and children with activities and places to go and things to do, sometimes just that little extra help of, you know, putting something that you know you need to do on your calendar and just, you know, take a little stress off and make it a little easier for yourself.
Eric: Is there an ideal time during the day to mow your lawn?
Barb: I'll typically during the cooler times of the day, so in the morning or later in the afternoon, certainly you know, your, your weather pattern where you, where you're at can dictate that you want to avoid mowing any really wet grass if at all possible. Yup. But generally the cooler times of the day, there's just less that doesn't stress out the grasp and much
Eric: Or are the grass mower
Barb: Or the grass mower through.
Eric: Yeah. So the other thing this is less of an issue now, but we have some some watering suggestions even though we have a hurricane coming up the east coast have some watering suggestions.
Barb: Yeah. It's so watering overall is better if you do it more deeply and less frequently. When you water frequently for just a little bit, the root structure in the grass in your plants tends to stay closer to the surface of the soil and doesn't develop as strong a root system as watering it more deeply, which causes the roots to grow deeper and anchor the, the grass and the plants into the ground better and hold onto that moisture. So that, that's a key thing. And then I think also time of day is important as well. Again, the early morning or early evening are the best times to water. You wanna avoid watering too late at night. Just to avoid any like mold or mildew that might grow because typically, you know, your nights get cooler and you have the potential to, you know, have some other issues pop up with the dampness created by the later watery.
Eric: My big thing that drives me crazy, I see people with the sprinkler going in the middle of the day and it's shooting like 15 feet up into there. And I get this supposed to drop back down onto the yard. And I'm like, you're all you're doing is evaporating water. You're not really, you're not really watering.
Barb: Yes, I did. Same thing here. And or when the sprinkler systems come on and it's raining.
Eric: Yeah. And
Barb: You know, I, I understand there are set on systems and you know, it's automatic, but no, it's just kind of makes me shake my head, but haven't figured out a way to, for like the sprinkler heads to sense that there's water in the ground or there's water coming down.
Eric: There's gotta be a smart system for that. But I think probably maybe some of the older systems or the less expensive systems don't have that rain sensor thing built in, I would imagine.
Barb: Yeah. Good point.
Eric: So we were sent some interesting statistics from Aya who I also got to meet at the last meetup here. So I was just gonna read these. Let's see. According to a survey by porch.com 57% of homeowners feel their home is a work in progress on top of the home improvement tasks. They need to complete 27% rank landscaping, outdoor projects as one of their must do's. So people are actually still into their yards. They're not, I mean, they're staring at their phones the whole time, but they still want their yard to look nice.
Barb: Yeah, absolutely. We see the same thing here. People, you know, they want to extend their living area. It's not just in the house or out of the house, it's all, it's both. And they want a seamless environment and they want a place to, you know, be with the family, entertain friends, neighbors, and they want it to be as personalized to as can be. I think people, you know, they take pride in what their blonde look like and, and what they've, what they've done with it, and it's Kinda reflects their personality. And you know, you can see that and the types of the plants they choose or they choosing, you know, flowers. Is it shrubs, containers, what types of containers? All kinds of things. I mean, there's so many things you can do in your yard, right? With not just with the grass but the plants and you can have play areas. Yeah.
Eric: And it doesn't have to be expensive either.
Barb: No, no, not at all. Not at all. You'd be surprised what a couple bright colored containers with some flowers in it. You can move them around, you know, over the course of the summer as your sunlight changes or you develop new areas or entertainment spots you want to get into. It's great to grow herbs to help. You know, Cook. With
Eric: The last video I did with Troy-Bilt, I had the drop an ash tree that was dying. And so I took the stump and I made it into a planter.
Barb: I saw that. Then you planted coneflowers and I looked at grades.
Eric: What's your low maintenance? You know, because a, a container can dry out faster, you know, and they do well with kind of lower water levels, I guess the word, but that is more popular than a lot of my other videos I've been putting out lately. So the, I think that Kinda says that people are interested in kind of upgrading their yard, but they don't want to drop a lot of coin on it.
Barb: Yeah. And you also I mean, what a great idea to repurpose some wood crates that you had on hand that you had to dispose of somehow to help to build that planter.
Eric: Yeah. I'm, I'm kind of a pallet hoarder, so, and I was told that some of them need to, to leave,
Barb: Reduce, reuse free. Yeah. And that's what you did. Now all those coneflowers come back up in the spring. Do you think that far north or, oh yeah. Need to replant them.
Eric: There are perennial and then they'll reseed. But another tip is that I don't dead had those, I don't, once the flower part dies off and it becomes a seed had I don't cut the seed head, I leave it on and there are my migrating finches and sparrows that come through our area and they eat the seeds for food on their migration path. And then the seeds that they did anticipate lodge when when you get your two feet of snow and then the wind blows, the wind knocks the rest of the seed head off. And then it literally, those black seeds sit on top of the snow. And then other, you know, like your overwintering birds like chickadees will come through and eat that seed as well. So it's kind of cool that way.
Barb: Oh yeah, that's very cool.
Eric: So despite the fact that there's a hurricane coming up the coast it is the start of fall. I didn't realize it was September already. I still thought it was August. But up by me, the sugar maples are already starting to turn the cow. You know, the leaves are starting to turn color. What's your beautiful, but I'm going to have to deal with leaves and stuff in my yard. So what do you think, what are your thoughts or suggestions for fall cleanup?
Barb: Well, yeah, there's a lot of tools out there that can help make your fall yard cleanup goal a little easier. Obviously that, you know, raking ranking on the tarps to pull it off is probably the simplest and least expensive way to get it done. But probably the, also the, the most work, the most physical labor, you can use leaf blowers to kind of get the leaves out from around the Patios and under the shrubs and things of that nature. You can also blow them onto a tarp if you have a large area declared. If you've kind of put all the leaves onto a tarp and then you can drag the tarp off to the side or wherever you dispose the leaf. Troy. But also Scott Chipper, chipper letters, number shredder of ass. Yes. Which really can reduce your yard wage. You know, almost to attend the one on the chipper shredder so you can take 10 bags of leaves, twigs and branches and reduce it down to one bag. So that's really helpful for larger areas. Great to add in. If you have a compost pile going or you want to start one it's great to take those materials and put them in there so you can use them in the garden. Next year.
Eric: I actually have, I have the giant chipper shredder and I've used it on two big projects. One, I kinda rescued my blueberry bushes and made them into a raised bed, a defined raised bed because the kind of weedy part of my property was, you know, taking basically choking the blueberries. But I dropped either cut down in a dead apple tree. And so I ran that through the chipper shredder and I took all the wood chips I laid down. First of all, I cleaned up the area around the blueberries. Then I laid down cardboard, Troy-Bilt cardboard of course. And then because that was from the chipper shredder that came, and then I laid to, I chipped up that apple tree and I laid that down and the blue, the blueberries were much happier and it was much easier to pull any weeds that tried to come through. But I had like three inch, three inches of a wood chip mulch there and that did pretty good. But I'm mistake I see people make with that, you know, putting the mulch around trees or bushes is they, they've, it's called a volcano mound. They mounded up against the tree bark and you don't want to do that. You want to have like a two or three inch buffer between the mulch and the tree or shrub itself. So that's one thing that I've found out.
Barb: Yeah, no, you're absolutely right about that. If you can get those too close to the, the tree itself, you just open yourself up for an environment that, you know, disease can start to grow, the sunlight doesn't come down through at that point. Yeah, that, that's a really good tip to keep in mind.
Eric: The other thing I've found that people, they, I, they try and jam, when you have a home version of the chipper shredder, you, you, it's not like the one on the back of the truck from the utility company, you know, so they, they overdo it and I, and then I'm like, you know, a little at a time and you'll do just fine. But there is this kind of, at least from the Eric point of view, your take your, it's, it's, it's man versus nature and you're, you're actually taking it, turning into something. You're, you're kind of accelerating the breakdown process, but there is a certain feeling of completion and you're kind of decluttering your yard and you have this great pile of wood chips to do something with. [inaudible].
Barb: Yeah, you're right. It's there's just, there's so much you can do with it. You know, afterwards, just, you know, you can take some of those chips. If you've got a vegetable garden bed and you're getting it ready for the winter, you could use a killer and you know, kind of melted into the soil now, or even just spread it on top now and then come spring, you know, work it and work the decomposed shred, you know, into the soil. And that's, you know, great nutrients for, you know, next year's vegetable garden.
Eric: I love it. The other thing is that the mulch that you buy at the store that comes in bags and it's like brown or black, it's been painted. They, they, they, you know, they have a chipper shredder, a large one, and it comes out and then they spray it to whatever color you want. You can get your red mulch or your black mulch or whatever. And I just find that really strange. So the stuff that's coming out of your own chipper shredder is, is just a better deal. I don't really want, you know, spray painted mulch on my plants. [inaudible]
Barb: Yeah, it's very natural looking and it'll decompose very naturally. In fact, you can even take some of that and use it in your house plants, you know, put a couple of handfuls, maybe a half inch or so in the past of your house plants and you know, take a little garden, a little garden fork.
Eric: Okay.
Barb: Ah, work it into that top layer of soil and that'll help provide nutrients for your house plants over the winter.
Eric: I had not thought of that. All right, well cool. I think people have probably got to their workplace or they're done folding their laundry. I listen to podcast when I fold the laundry, so that's probably more information that you needed to know. But
Barb: Well, I find I find the car is best for me. I like to be not distracted when I'm listening to the podcast.
Eric: When you're listening the garden fork of course, right Barb
Barb: Everyday. Eric, every day.
Wrapping up our 5 Tips For Fall Lawn Care talk:
Eric: Find out more about Troy belt and lawn care stuff on the youtube channel. So that's youtube.com/is it slash Troy-Bilt or just type Troy? Yeah. And then Troy-Bilt there'll be links there.
Barb: Yes, we have a whole knowledge center. If you go to tread belt.com and you look under the tips and how to, you'll see a whole library of, you know, lawn care, gardening, yard cleanup, snow removal. We virtually have something for every yard need that you have. We make tall grass short and a lot of different ways we can split would create mulch, you know, blow leaves as well. We're, we're happy to kind of be that helpful partner in the yard for everyone.
Eric: All right, so thanks for your time Barb. If you guys have any questions or thoughts, it's radio@gardenfork.tv. Radioed Garden fork.tv. You have some lawn care stuff you want to talk about. I can get bar back on the show here and we can get more answers. The experts, I actually would like to try and get a picture of the test, the tests, the grass test facility to include on this. So maybe I can nudge someone to Troy belt about that. But it is an epic site to look at that thing. We can help you out with that. Alright, cooler one. Make it a great day and we will see you later. Garden fork radio's executive producer is Jimmy Goots of hollowbooks.com and our music is licensed from Unique Tracks.
Eric: All right, so thanks for your time Barb. If you guys have any questions or thoughts, it's radio@gardenfork.tv . You have some lawn care stuff you want to talk about. I can get Barb back on the show here and we can get more answers. The experts, I actually would like to try and get a picture of the grass test facility to include on this. So maybe I can nudge someone to Troy-Bilt about that. But it is an epic site to look at that thing. Make it a great day and we will see you later. Garden fork radio's executive producer is Jimmy Goots of hollowbooks.com and our music is licensed from Unique Tracks.