This post may contain affiliate links, it helps us pay the bills, more info here.
You want to hang shelves on cement block, a cement wall, or hang shelves on cinder block. I'll show you how, watch this video and read through the steps. I'll also list out the best tools and screws for the project below, OK?
Working as a contractor in New York City, I have been asked many times to hang shelves on cement block, also known as CMUs or cinder block. They are basically all the same thing, though they may have slight differences. Some may be solid block, some may have holes in them. The method to drill into them and hang shelf brackets is about the same.
Some Key Tips To Hang Shelves On Cement Block:
Do not drill into the joints between the blocks.
Use A Hammer Drill.
Have a Shop-Vac or vacuum hose right under where you drill.
Size the screws to the weight that will be on the shelf.
I often seen projects where the DIY person has drilled into the masonry joints of a wall instead of drilling it into the cement block. Its much easier to do, but the screw has a good chance of falling out. The masonry joint can easily crumble, and then your bracket falls off the wall. Not Good...
Watch my video about the perils of drilling into masonry joints here and my video on how to hang shelves on brick here.

First figure out what it is you want to hang on a wall. Is it a shelf to hold stuff? How heavy is the stuff?
That will answer what kind of shelf brackets and screws to buy. If it is light stuff, you can get simple brackets and use screws with lead anchors. If its a heavier thing, you will need concrete lag bolts (aka Tapcons or Tappers) and stronger shelving brackets.
Tapcons require a specific size drill bit. Be sure you have the right one, or you can buy one with the screws/bolts. Lead anchors are a little more forgiving in respect to drill bit diameter.
BTW, if you want to hang floating shelves, keep in mind they don't hold a lot of weight. DO NOT try to put a TV on a floating shelf, OK?
To me, floating shelves are a pain, but I'm not an interior designer.
The key tool for this project is a hammer drill. The one I have linked to here is affordable and will do all sorts of stuff for you. You can not only drill into cement and brick, but also use it to mix 5 gallon buckets of paint. You will be happy you bought one, OK?
A regular corded drill, or cordless drill, will not work when drilling into cement. Many have tried and failed. Make your life easier, get the right drill.
You will need a masonry drill bit set for your drill. Don't cheap out on the drill bits, you get what you pay for.
Place your shelf brackets on the wall where you want your shelf. Be sure the screw holes on the brackets are not centered on the masonry joints, and mark the holes on the cement wall. Use a level to make sure each bracket is level on the wall and the brackets are level with each other.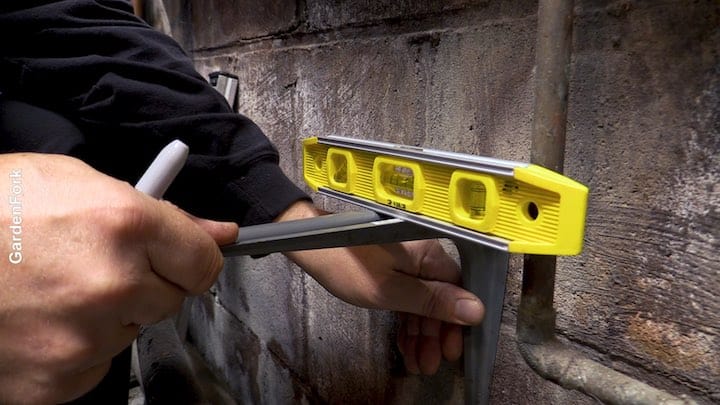 When drilling, go straight in and straight out. Do not 'round out' the hole, the cement lag bolt needs a precise diameter hole or it wont work.
If using lead anchors, tap them into the holes, and then use a cordless drill to screw the brackets into the wall. If using cement lag bolts, use a socket wrench or a cordless impact drill to screw them in. Do this carefully, do not over tighten the bolts, or they can strip out the hole you just drilled.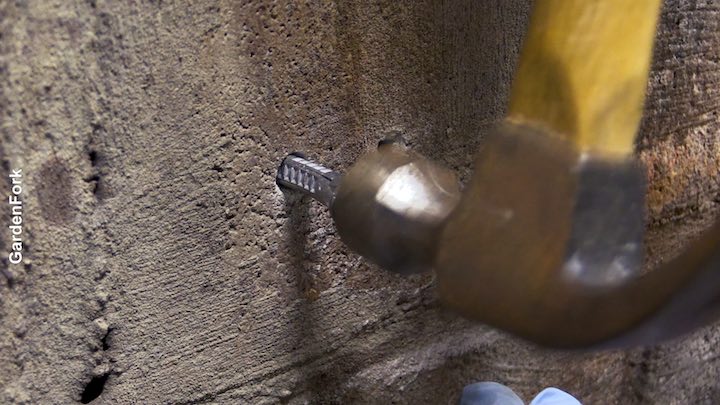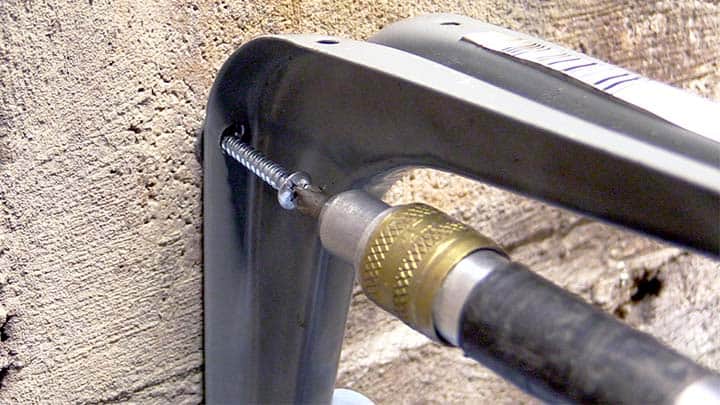 Finally, do an idiot test. See if the shelf will hold the weight intended. You don't want your prized object to fall off the wall.
Tool List
Magnetic Level (really cool, IMO)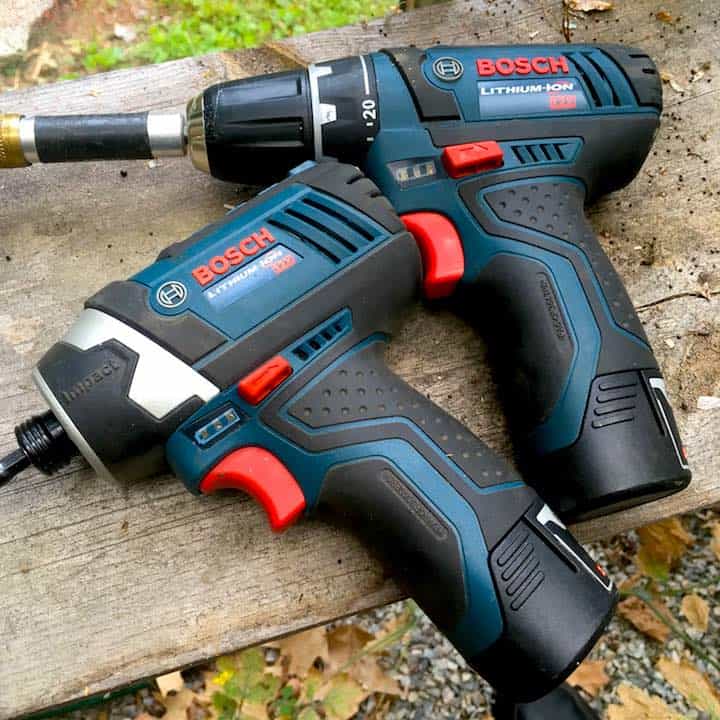 I am a big fan boy of this Bosch Cordless drill driver set. It has the power of an 18 volt cordless tool, but its only 12 volt and fits in your pocket. I no longer use big cordless tools, I use these. And they recharge quickly.
Here is the video transcription:
You hang shelves on cement block? Today, I'm gonna show you how. Ready, here we go.
I'm gonna try to be a little clairvoyant here. You went to the hardware store, you bought a masonry bit and some kind of hardware to hang your shelves on cement block and you took your regular old drill and it went nowhere. So then you went to the internet and you found Eric. Welcome.
This is a cement block. This one's a little dirty 'cause it's been in my basement, this wall's a little dirty, but what I'm gonna show you, the techniques are the same, the challenge here is you have to drill through this to hang something on the wall. And that can be daunting but I'm gonna show you how to do it.
You need a couple tools though, okay? What you're missing is this and some knowledge. This is a hammer drill, don't be daunted by that name. This is an amazing tool, that I think you should consider adding to your toolbox. I've had this one forever, I've used it a lot and it was inexpensive.
And what it is. But what it does, in addition to turning, it is percussive, it hammers. So it takes this drill bit and goes. All while turning it at the same time into the cement. That is key. If I was organized, I'd actually get things done.
All right, so you want brackets on here. There's a couple ways you can do it but basically you're gonna need some sort of screw into there, right? I really like these, these are a masonry lag bolt. A commercial name is Tapcon or I think Tapper is another one. But, it's a double threaded lag bolt. I think these are just fine for some angle brackets to hold up a wooden shelf. If you're holding a very heavy TV you might need some thicker ones.
Lead anchors are another choice. I like these when it's not as heavy of a thing that you're going to hang. These are lead, you don't wanna handle 'em too much. 'Cause they're lead. See on the side here the diameter of the drill bit you need. But you look on the side here what diameter you need. Drill the hole, put this in. Put the screw in. Butter. Done.
The masonry lag bolts have a specific diameter drill bit that you need. I just, a lot of times I just buy a new one, 'cause I wear these out. The trick here is when we're drilling this in straight in, straight out, don't round it out because this won't be able to bite then. Learn from me. Who's rounded out this?
So I'm gonna show you how to do both of these. I have to mount, well it's a water pump. It's a cast iron water pump from my spring, it's part of a longer video I'm making. These are what I wanna use, but for you I'm gonna show you how to do these as well. Come along, let's go.
So when we're figuring out where we want this to be for drilling the holes, do not drill into the masonry joints. Not here, not here. You wanna drill into the cinder block itself, okay? Use a small level to make sure your bracket is level. That's important. First the lag bolt, okay? Ear protection, no, eye protection, and ear protection is a must. This drill makes a lot of noise and it'll throw out cement so, careful.
Bigger drill bit for the lead anchor, okay? There is a lot of dust when drilling cement. Put your shop vac or your vacuum or a dust pan right underneath it, sucks all of it out. If you're doing this in someone's living room put a vacuum underneath it then drill, okay? Learn from me, what have I done before? Dust, everywhere.
Lead anchor goes into the wall. Stick around to the end here because once we get the brackets up we still have to test the weight. Did I actually do what I'm, do I know what I'm talking about? You wanna know that, right, so stay to the end. This, in there. Brackets on, weight on. See what happens.
So to put in the concrete lag bolts you have two choices. Impact driver, I really like these, I'll link below. I'll link below to all the tools I'm using. Or, a ratchet. First time out, consider using a ratchet 'cause if you spin this out, because you can put this in too tight, and rip out the cement that's holding this in you have to re-drill the hole. So, I'll show you both ways, okay?
Don't over-tighten this, okay? Like that. And stop. Nice. So, look at this, this is the lead anchor screw here. Much thinner. This is much more robust. But it just depends on how much weight you're going to hang as to which one of these to use, okay? Lighter weight. Heavy weight.
So I've got a level across the two brackets here. I'm making sure I'm not going into the cement seam. Looks good, that looks level. Make the marks, and drill. Did you notice something there? I had the drill set on reverse. Yeah, don't do that. You should always do kind of an idiot weight test before you put the very special thing on the shelf.
BTW if you want to organize the tools you are acquiring for all these DIY projects, see how my friend Erik does it at Root Simple.