Want to build a grow light for seed starting? In this video I show you how to make an inexpensive one from parts you can buy at the hardware store. This rig may not be fancy, but it works, and that's what its all about on GardenFork. Check out our seed starting video below as well.
Tips on how to build a grow light
Its ok to use regular fluorescent bulbs.
The plant leaves can touch the bulbs, it won't hurt the plant.
Keep the bulbs on 18 hours a day while growing seedlings.
People say you have to buy special bulbs to grow seedlings. I don't. For the short time we are using the grow light for a tray of seeds, regular bulbs are fine. Save your money. Sometimes I have seen packs of regular bulbs on sale, doesn't hurt to buy them on sale!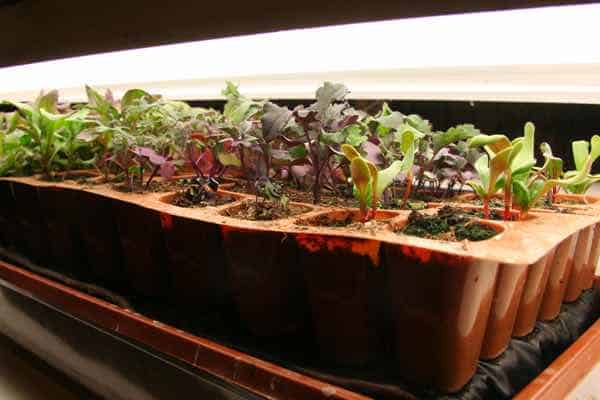 The leaves can touch the bulbs. Its actually good they do, as they are getting the maximum amount of light from the bulb then. You don't want leggy plants, they will perish when you transplant them. Adjust the lamp height as the plants grow. If you have different plants under the same light, you can raise up the light for the tall plants and then slide wood or something under the shorter plants to stay close to the light.
I keep the grow light on 18 hours a day to make up for the lower brightness of bulbs versus regular daylight. Get yourself a simple light timer and plug it in.
I have found chain is the best way to hang the light on the stand, it makes it easy to adjust the height. Rope doesn't work well.

After build a grow light, you can learn how to start seeds, its easy to do: