A cornbread recipe that adds in pumpkin to change it up. This will go great with chili, stews, or as a Thanksgiving side dish recipe. I love cornbread already, and when I saw pumpkin puree on sale at the store, I started to think of ways to use it, and there you go: add it to a cornbread recipe!

A couple of key things here, I use a sectional cast iron pan for this, you can use a cast iron fry pan or an 8x8 or other square baking pan as well. A glass baking dish will make the best crust, I think. If you are using cast iron, put the fry pan in the oven and then preheat the oven and the cast iron. Do not oil the cast iron pan, just let it heat up. We will oil the pan just before we put in the batter, OK? You can buy the cast iron cornbread pan here. This post may contain affiliate links which won't change your price but I earn a commission from. Thx!
If you are using a baking pan, put 2 tablespoons of butter in the pan, and put it in the oven to melt just before you are ready to add in the batter. Take care not to burn the butter, this is a bad thing. If the butter burns, get a clean pan out and start over with that process.
This is basically a quick bread recipe, so take care not to over mix the batter, the milk helps everything come together pretty well, but don't beat it into a mess. If you want more pumpkin flavor, add in more puree, and dial back on the milk. It will be an experiment, but I think it will come out fine. Let me know how you use pumpkin in the comments below.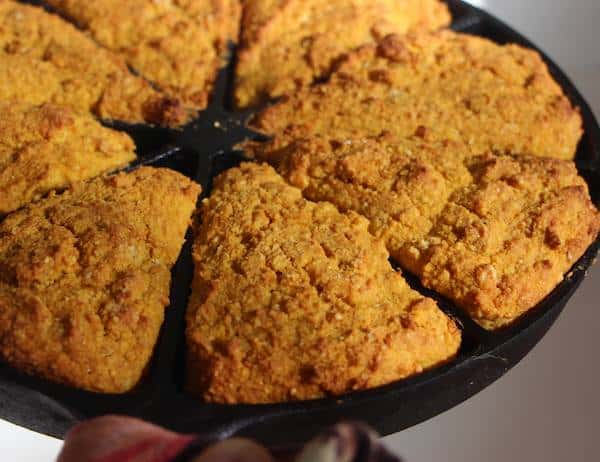 Pumpkin Cornbread Recipe
Author:
Prep time:
Cook time:
Total time:
Cast Iron Corn Bread Recipe gets a flavor upgrade with Pumpkin for Thanksgiving or any time.
Ingredients
1 ½ cups Cornmeal
½ cup All Purpose Flour
1 tablespoon Baking Powder
1 teaspoon Salt
¼ cup Brown Sugar
½ teaspoon Nutmeg
2 Eggs
1 cup Pumpkin Puree
¼ cup Vegetable Oil
½ cup Milk
Instructions
Preheat the oven to 375F and preheat the cast iron pan if you are using one.
Mix all the dry ingredients together in medium sized bowl
Crack the two eggs into a small bowl and scramble them together, then add to the dry batter.
Add in the puree, milk, veg oil.
Mix the ingredients together, but don't over mix, OK?
If using a baking pan, put 2 tablespoons of butter in it, and place in the oven to melt.
After butter has melted, swirl it around in pan and then add batter.
If using cast iron, take pan out, swab vegetable oil all around and add batter.
Bake for about 30 minutes and test for doneness. Its not the end of the world if cornbread overbakes a bit.
Let cool for 1o minutes then pop out of the pan.
This tastes great with maple syrup.