A cheap solar panel system to run most of your small house or cabin. This video walks you through a simple solar installation we did for a friends cabin in the woods.
A Cheap Solar Panel System, How We Did It:
We talk about a simple solar installation on the GardenFork Radio podcast, in this post I want to show you how I built a cabin solar system. There are many options for what to buy, but if you want to keep it simple, here are the items we have used.
Solar Panel & Controller: https://amzn.to/2sPEi6c
Inverter: https://amzn.to/2M5KSOI
Battery: https://amzn.to/2kTHqKJ
Kill A Watt meter: https://amzn.to/2sJLlgE
12 Volt LED bulbs: https://amzn.to/2yf9TnR
HD Outdoor Extension Cable: https://amzn.to/2t1qtT7
You can get a smaller solar panel than the one we link to, but it will cost about the same amount of money, and its good to have the extra capacity for dark days.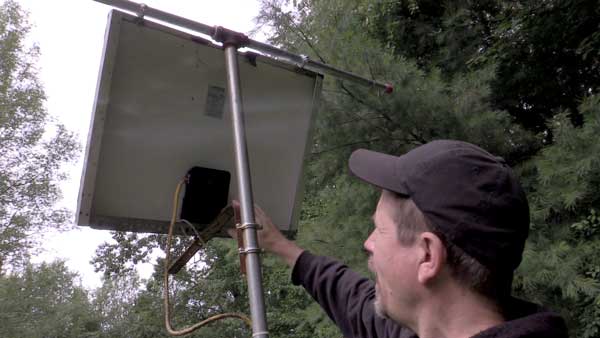 Our solar panel is mounted on a DIY pole consisting of plumbing pipe and some scrap metal parts. It is pointed toward the ideal part of the sky for maximum power generation. If it points in the right direction you can also mount the solar panel on a roof or shed. A heavy duty outdoor extension cord is connected to the panel.
I cut a slit in the grass about 2" deep for the heavy duty extension cord going from the solar panel to the basement of the cabin. In the basement the extionsion cord cable from the solar panel hooks up to the charge controller. The charge controller is wired to the batteries.
How many batteries you buy will determine how much power you will have on hand. If you don't run a lot of stuff, you can get just one battery. This is very easy to set up, and its very simple to do.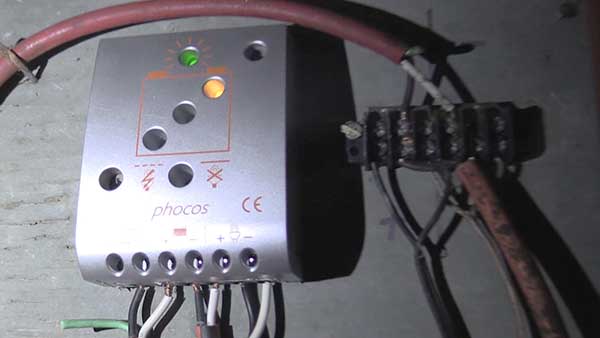 Regular car batteries will not work here. You need either locally purchased deep discharge batteries, aka golf cart batteries, or sealed solar batteries purchased online. Pictured below are two 6 volt golf cart batteries, you would normally purchase one 12 volt battery.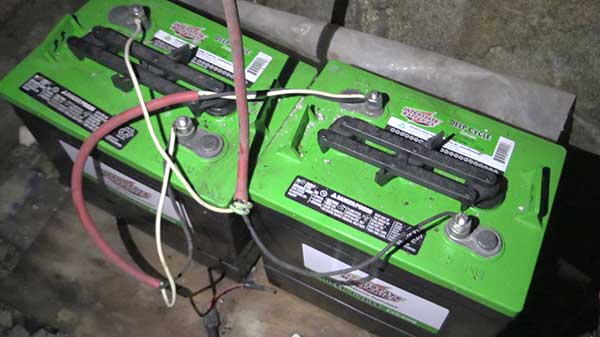 Here is a still frame from the YouTube channel The Weekend Homestead's vid on his solar setup showing the inverter and battery. The inverter converts 12 volts to 110 volts. (Full vid at end of this post) Be sure to read the instructions that come with the unit.
This cabin can be run simply because we are using 12 volt LED lights and the fridge is propane powered. A solar powered fridge would require a larger panel setup.
You can now buy 12 volt LED bulbs with what's called an Edison base, this is the regular silver screw in bulb type. This means you can use any regular lamps, and just drop in the 12 volt LED bulbs. Neat!
Laptops, radio, stereo all run on 12 volt. You can buy a 12 volt car adapter to charge many laptops. Or you can pick up a small car inverter and use your regular computer's cable to charge up the laptop.
A portable generator runs the well pump and any power tools needed.
While making dinner at the camp we sometimes want to use a hand blender or a mixer, so for that we fire up the generator, which is hooked up to a few electrical outlets in the house. Be sure the generator is grounded, OK?
My main point here is that you don't have to make this complicated, and you can probably do it yourself if you follow directions. Watch Will's video on how he set up his cheap solar panel system.