Here comes Santa Claus! Here comes Santa Claus! Right down Santa Claus Way!
I Love Christmas! The gifts and friends. Parties that drag you out into the cold. Everyone is happier! Like many of you, I'm involved with more than one gardening project during the spring, summer, and fall. Winter rolls around and we can show case the fruits of our labors. Heat our kitchens with bread in the oven and stew on the stove.
As much as I would love to bake cookies or bread for everyone on my gift list, that's not possible. My sister, is getting married in February and would KILL me if I made her cookies. She's even sworn off baking until the big event. Poor thing.
Like Eric, I try to spend my money in socially responsible ways. Last year we adopted olive oil trees for my stepmom from nudo-italia.com.We got a mix flavor pack for ourselves and have really enjoyed it. I had asked for a donation to www.heifer.org and some beans from Rancho Gordo. I got the beans and lots of them.
I've put together a little list of interesting items what I think would make great gifts. Some items are handmade, others are locally made from sustainable materials, and almost all are found at local, independent shops.
You can never have too many cutting boards. These footed cutting boards from Gray Works Design look perfect for showing off that one perfect tomato I can seem to grow a year. If you don't care for footed cutting boards, etsy.com has tons of other designs.
While still on the subject of cutting boards, some of us (me) insist on having cutting boards that are dishwasher safe. Thank you epicurean. The cutting board feels good to work on and is made from sustainable materials in an energy friendly factory. For my sister, I'm getting her the pastry board and rolling pin.
Everyone needs a dutch oven. Once you have one, you need two. One for bread, one for stew. Lodge makes some great cast iron dutch ovens, now they have some really good looking, affordable enameled dutch ovens.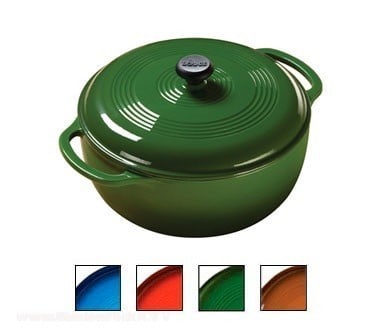 What really caught my eye was the skillets. I don't have a cast iron skillet.
In the Chicago we have an awesome kitchen supply store, Northwestern Cutlery. They call themselves the candy store for cooks and that's right on the money. I take my work knives there and generally spend 15 to oh, 30 minutes wandering around and looking. They carry epicurean, lodge, le crueset, and more cooking and baking gadgets than you can imagine. Most importantly, they are an independent shop and have a good website for people outside of Chicago.
This is a little treat I picked up for myself a couple of months ago, the Sodastream Genesis. I love this gadget! I've used it almost every day since bringing it home. Lots of us love soda but hate the cans, hauling them back from the store, and most importantly, you can never run out of soda. Green Home Experts in Oak Park carries the sodastream, CO2 cartridges, and flavors.
Have a happy and safe holiday season!