Here's a mushroom hunting video about some really amazing oyster mushrooms we found growing along the side of the road right near our house
A few things to keep in mind when you're going mushroom hunting:
bring along several identification books we like a couple that we listed at the end of the video here
learn from someone who already knows what they're doing take a class or ask if you can tagalong with someone who is a mushroom expert
Join your local mycological society, in other words your local mushroom group. You can learn a lot from these people and they might even take you long to show you some really cool spots to go mushroom hunting.
When you find some mushrooms you want to harvest, don't take all of them. Leave one third of the mushrooms there so the mushrooms can propagate they will release their spores and they will grow more mushrooms that you would go in harvest.
After a while you'll be able to recognize some of the common edible mushrooms in your area but bring along several mushroom identification books anyway. I really like the Audubon guide and there are also several regional guides. We  have a few for the Northeast United States or New England listed those below.
Avoid mushrooms that have slugs or bugs in them, yes they are a protein, but many don't taste that great. You can wash mushrooms, but they usually only need to  be brushed off. You can use a towel, I've seen mushroom brushes that look like a whisk broom/porcupine thing. So again, if you're not quite sure don't eat it or check with your friend who is an expert OK?
Want to grow mushrooms, watch this vid: How To Grow Mushrooms From Plug Spawn - GF Video
Here are more mushroom hunting and mushroom identification videos for your here on GardenFork: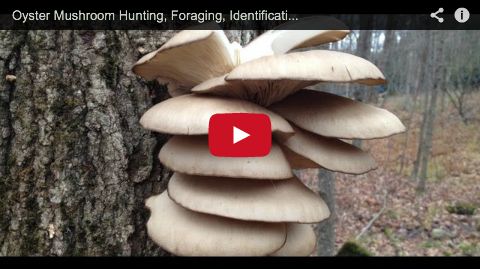 Oyster Mushroom Identification
Click here to see our other mushroom identification posts
Cross check the mushrooms you find with several sources, books are best, I think. I use several books for identifying mushrooms , below are the mushroom identification books I recommend:


Click Here To Buy From IndieBound
Click Here To Buy From Amazon


Click Here To Buy From IndieBound
Click Here To Buy From Amazon