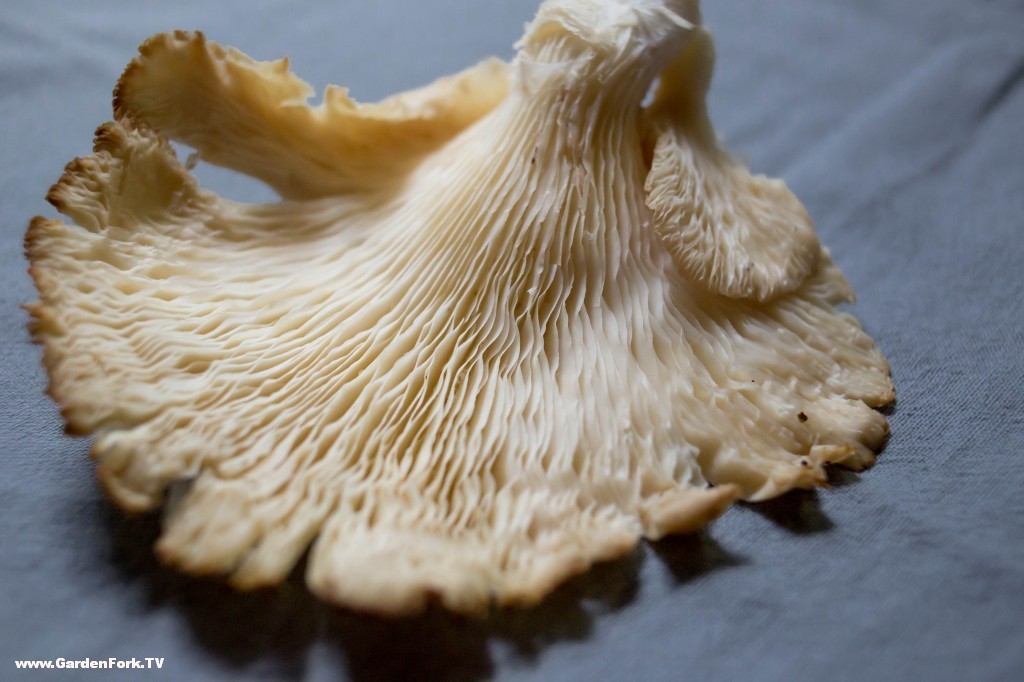 After getting back from vacation I was pretty lacking in the grocery department, but fortunately Eric graced us with some of these beautiful foraged oyster mushrooms. I made mushroom risotto - a pretty common occurrence in our kitchen but made special by these particular specimens. I typically use creminis from the grocery store because they are affordable and have decent flavor, but these oyster mushrooms are much heartier in texture and woodsier in taste - the perfect addition to creamy, slightly sweet risotto. To make it a meal, we added a fried egg to each serving, the vibrant, runny yolk as a colorful finishing sauce.
In true GardenFork style this "recipe" won't include much in the way of precise measurements. Risotto is more art than recipe, and lovers of the dish have a good time debating the precise way to make it perfectly. In our show with Lynne Rossetto Kasper we talked a little about the process of making good risotto. Her tips: stir most of the time and use a wooden spatula with a flat tip so that you move a lot of rice with each stir. My method is below, along with a simple recipe for sautéed oyster mushrooms.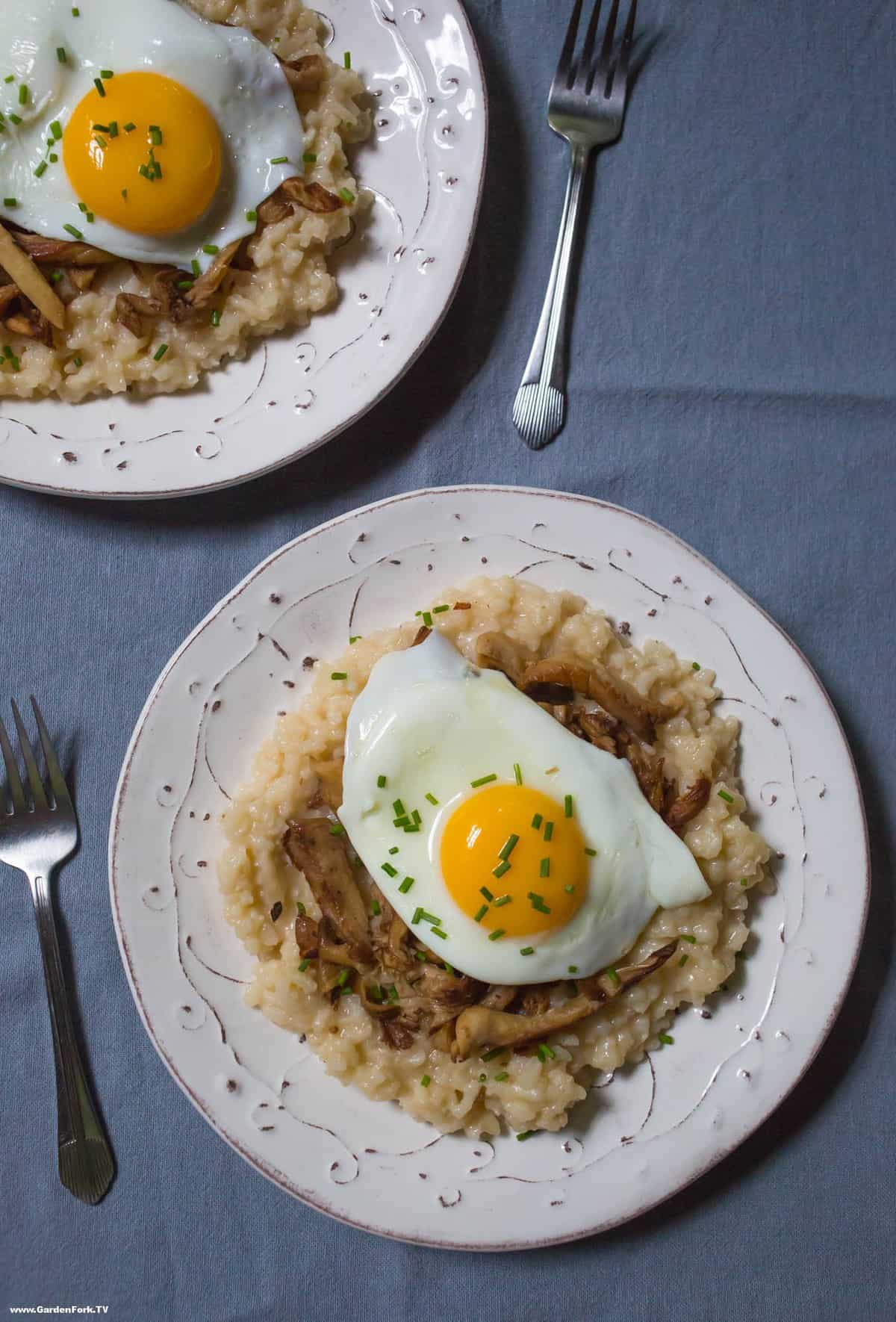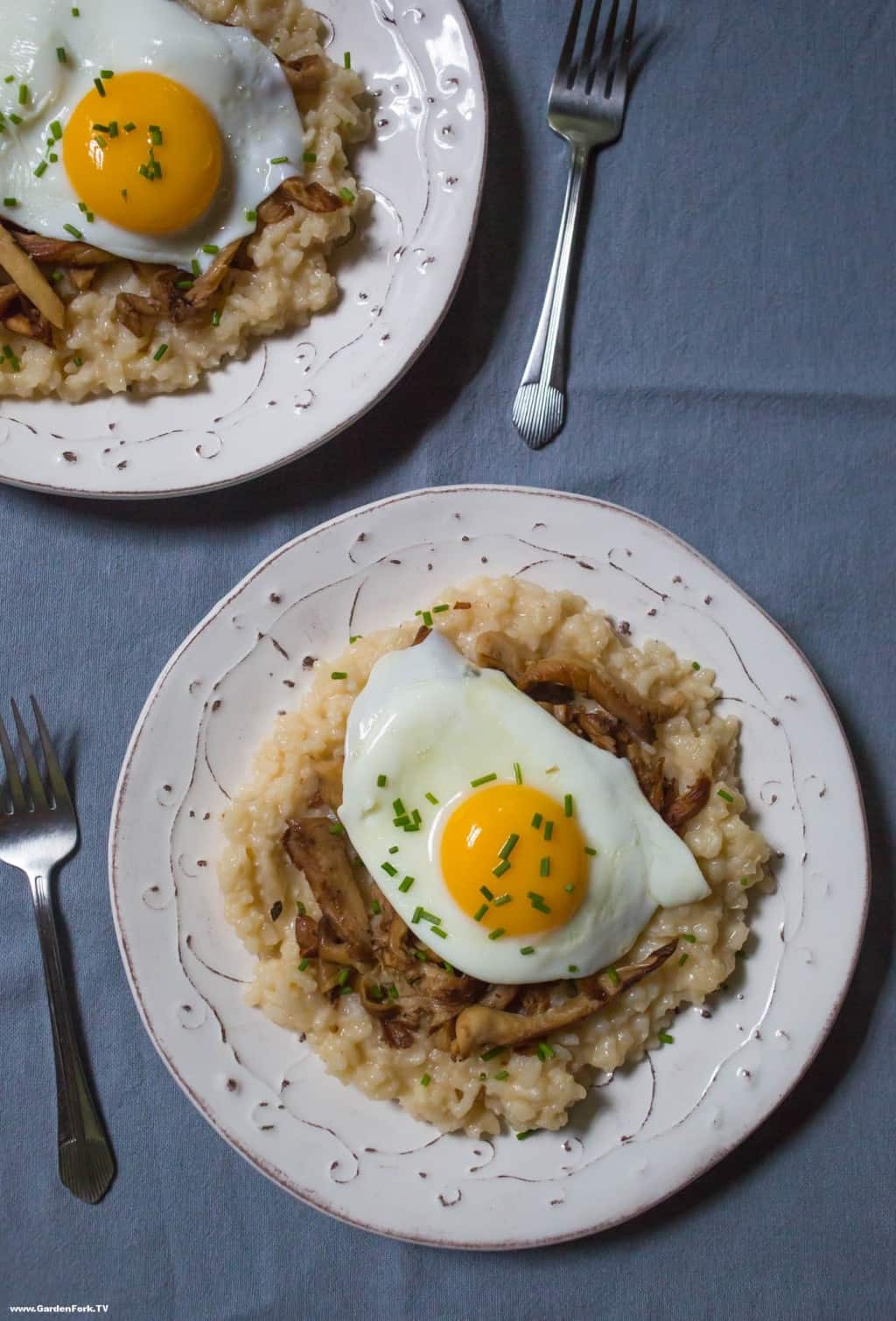 Oyster Mushroom Risotto
Serves 4
Ingredients
•    1 onion, finely chopped
•    1 c arborio rice
•    dry vermouth
•    Chicken or vegetable stock (I used a homemade chicken stock that included some leftover corn cobs, making it slightly sweet)
•    ½ c grated parmesan cheese
•    2 tablespoon butter
•    4 c cleaned and sliced oyster mushrooms
•    ½ teaspoon dried thyme
•    balsamic vinegar
•    4 eggs
•    chopped chives, to garnish
•    salt, pepper, olive oil
Cooking Directions
1. Heat the stock (I start with a quart) in a medium pot over high heat. Once hot, reduce the heat to low to keep the liquid warm.
2. Coat the bottom of a medium or large pot over medium-high heat with olive oil. When the oil is hot, add the onions and a big pinch each salt and pepper and sauté until translucent. Add the rice and another pinch of salt and pepper and sauté for a couple minutes. Add a couple big splashed of vermouth and continue to stir and cook until the liquid is absorbed.
3. Add a ladle full of warm stock and stir the rice until when you run your wooden spoon along the bottom of the pot and the rice does not immediately run back together to cover the line you made. At this point, add another ladle full or two of stock. Continue this process until the rice is creamy and just cooked through, about 30-45 minutes. It may take you a few times to get the consistency just right, but rest assured that all attempts, as long as the rice isn\'t hard, will be delicious, if imperfect.
4. When the rice is where you want it, turn off the heat, add the cheese and butter, and stir to melt and combine.
5. Coat the bottom of a large saucepan over medium-high heat with olive oil. When the oil is hot, add the mushrooms and thyme and give them a quick stir to evenly coat with the oil. Let the mushrooms brown deeply, resisting the urge to stir. Once browned on one side, give the mushrooms a stir to brown the other side. Add a splash of balsamic, turn off the heat, and stir to distribute the vinegar evenly. Add a pinch each salt and pepper.
6. Fry the eggs. Distribute the risotto evenly among four plates, top each with a fourth of the mushrooms and an egg, garnish with fresh chives.