This last weekend the temperature was around 5-10 degrees F all night and day. So this played havoc with our maple syrup evaporator operation. The line that feeds raw sap to the evaporator froze as soon as I would defrost it, so I was ladling sap in to the pan by hand.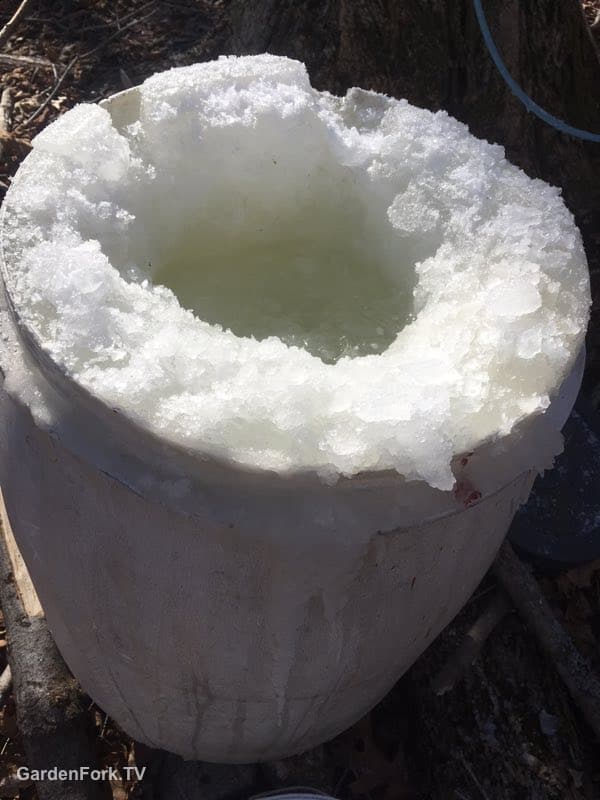 Bigger problems were elsewhere in the yard. My main sap storage tank was frozen to the point that the drain valve froze shut. Its kinda a bulky object to work with, so it just had to sit until it warms up later this week.
But one thing I had never seen is just how frozen one of my barrels out in the wood was. These barrels sit at the end of a line of maples we have tapped. This one had so much ice in it, the lid had been popped off.
I hacked through the top layer of ice knowing there would be slushy sugary sap inside. I scooped out the sap and carried it in buckets over to the evaporator.
Usually, if I have overnight ice in a bucket, its maybe an inch thick. I remove this ice and toss it. My thinking is the first ice that freezes on cool nights has a low sugar content.
But this barrel was different. It had gotten very cold, and this was a lot of ice. So I dragged a spare barrel over and connected it to the sap line, and let this one just sit. The temperature will go up later this week and I hope most of the ice will melt. Then I can haul it to the evaporator.
Tossing ice from sap buckets is one of those contentious topics in the maple syrup world. I want to borrow my friends brix refractometer and measure the ice in the buckets and the remaining liquid to see the actual sugar percentages.