Our fav way to cook polenta is with a pressure cooker, but here we show a microwave polenta recipe and a stove top polenta recipe. I call these kitchen hacks, since we are showing you how to get a step ahead in the kitchen and cook polenta faster than you can using traditional methods.



Microwave ovens are not all the same, so pay attention the first time you do this. I overflowed the dish in our first test, not a lot of fun to clean this one up!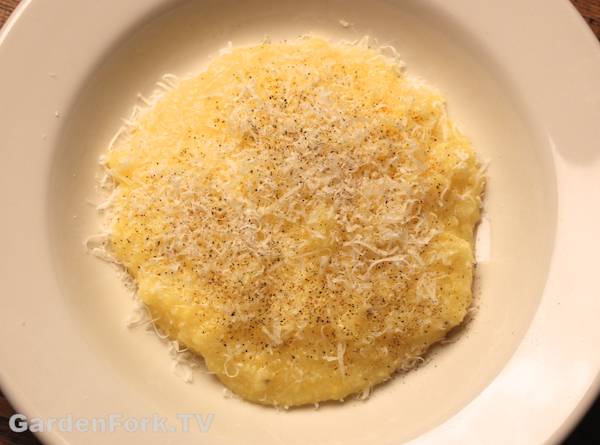 Polenta becomes transcendent when you add in some butter and Parmesan or Pecorino cheese.
Microwave Polenta Recipe
3 ½ cups of water
⅛ teaspoon baking soda
1 cup of polenta or corn grits
Mix the polenta and baking soda into the water in a large microwave proof bowl.
Cover with plastic wrap and put in the microwave on high for 5 minutes.
Remove the plastic and stir the polenta, be careful, the polenta will be real hot.
Cook for another 5-6  minutes at 75% power, keep an eye on it to make sure it doesn't boil over.
Remove from the microwave and stir, let sit for 5 minutes.
Add salt and real good cheese and eat.
Watch our grilled polenta recipe and pressure cooker polenta recipe video here: