You've probably seen one or three of my mini greenhouse plans videos. The most recent one talks about the complete fail of the plastic cover in the middle of winter. Here are the photos that show my attempt at repair before the complete breakdown of the covering.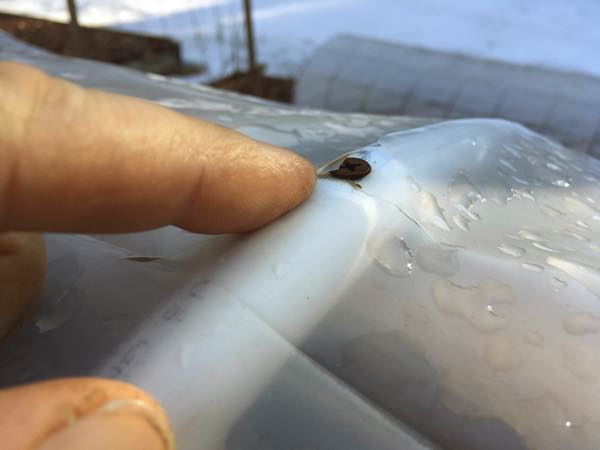 My big mistake 4 months prior to the fail was to put screws through the top of the PVC pipes, and then lay plastic sheeting over the screw heads. Who knew that the metal screw head would eventually puncture through the plastic, starting as all holes do, small.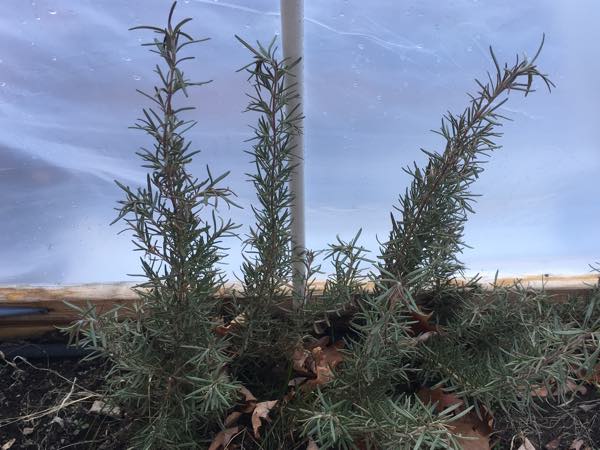 Prior to the small hole caused by the screw, all was good in the mini greenhouse. These rosemary plants had over-wintered well. Not so well after the plastic ripped though.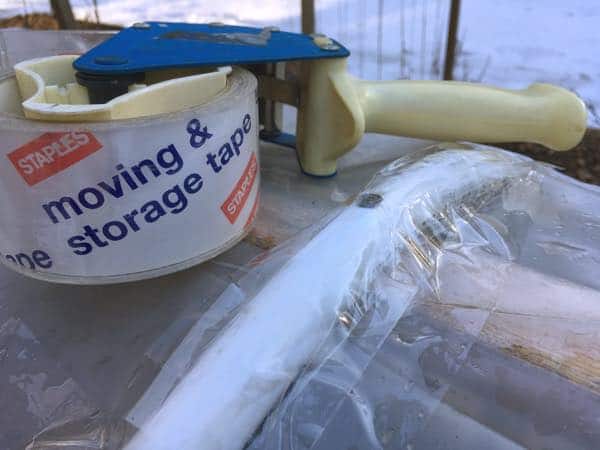 My attempt at repair was to use packing tape over the screw head and the splitting plastic. I knew it was not a 100% guaranteed repair, as it was cold out when I applied the tape. I don't think other tape would have worked either. The glue on tape is not cold friendly.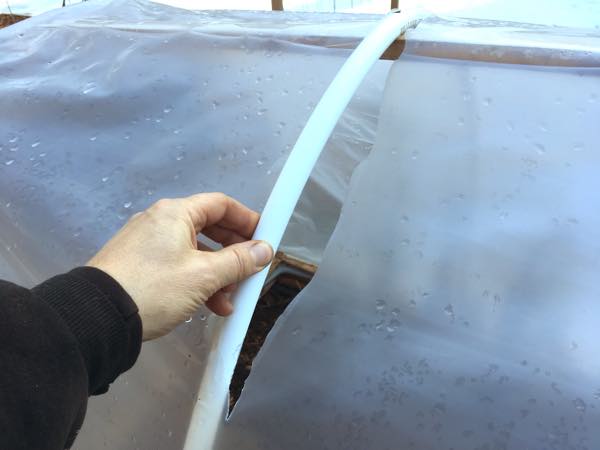 That small hole grew through the winter, with the weight of heavy wet snow, and lots of wind. Then we had even more wind and that caused the complete tearing of the mini greenhouse cover. Darn. It sat for a while before I was ready to walk over and deal with it. Besides, there was still 18" of snow on the ground. I knew all the plants inside the hoop house were toast.

Going forward I will use UV rated greenhouse plastic, I've seen some that is reinforced with netting in the plastic. AND I will screw the screws into the PVC starting underneath it, through the wood crossbeam, then into the pipe. If you have some old storm windows on hand, you can make a neat cold frame with them.
In the meantime, check the video where we walk through the fail: