Good podcasts to listen to and lessons learned on grilling and frying turkeys start off the show, and we talk about viewer mail from Rick on the Left Coast about Eggs.
Eric was tasked with cooking two turkeys on Thanksgiving, one deep fried like we do in this video, and one grilled on a Weber Grill, which Eric has never done before. Like life, it doesn't all go according to plan. Rick wrote a post about how to grill a turkey on a Weber Grill here.
Podcast We Like
From Steve in Canada:
Hey Eric, an insightful podcast I like listening to is Tiny House Chat. I'll probably never own my own Tiny House but my wife and I love the idea and inspiration behind these funky abodes. This podcast is very descriptive and informative on all aspects of building and living in a tiny house.
Give it a listen! Love your shows, we eagerly await what you'll teach us next!
Rick reminds us to check out the tiny house documentary that features our friend Deek, Tiny The Movie.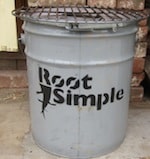 Eric recently discovered the Root Simple Podcast - Low Tech Home Tech, by way of a neat Rocket Stove how to on their site.
Rick likes the Quick and Dirty Tips podcast, specifically the Nutrition Diva.
We got a great viewer mail on our chat about eating eggs, based on an article on the NY Times Well column.
Hi Rick and Eric,
If you read the egg study carefully, I think the researchers are saying that eggs are "less bad" than other choices, not that "they are good for you." Comparing eggs to "sugared cereal" is not a terribly high standard to beat. Some of Rick's worm compost would likely beat sugar-laden cereal.
Love the show! Rick (on the left coast)
We end on what kind of fitness monitors or apps you use, and Rick suggests the Moves app.