Make these quick swarm traps when you have some spare beekeeping parts on the shelf. The parts are just sitting there, so we might as well use them, right? Here's how I build a swarm box using that famous GardenFork mantra: Use What You Got.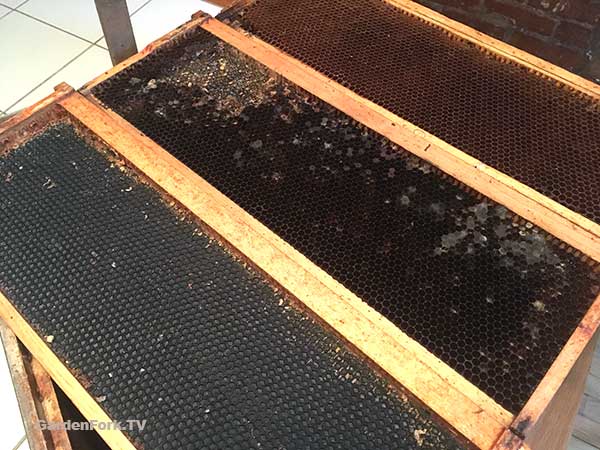 I had some frames from a dead hive, plus some frames of honeycomb that had been damaged by wax moths. While not in the best of shape, these are perfect for a quick swarm trap. Not sure if you can see it in the photo above, but most of my frames use plastic foundation. One benefit of this is you can scrape out damaged comb and not ruin the whole frame. The center frame had some wax moth damage, which I removed.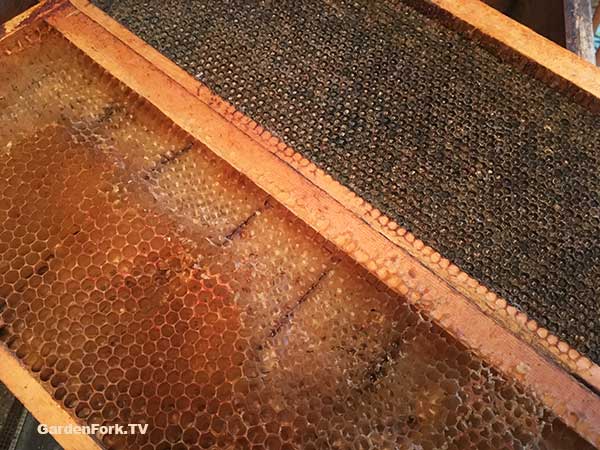 Above is the difference between frames made with wired wax foundation and plastic foundation. Use either one for your hives, its a personal preference, lots of strong opinions about this of course... I like the plastic foundation because its easy to clean up, it lasts longer and the bees take to it easily.
I am using a medium frame super, that is the wooden box that the frames sit in. If you have spare frames, but not a spare super, you can make a box out of scrap wood or cardboard or even plastic sign material. Make sure it has an entrance and ventilation. Again, Use What You Got.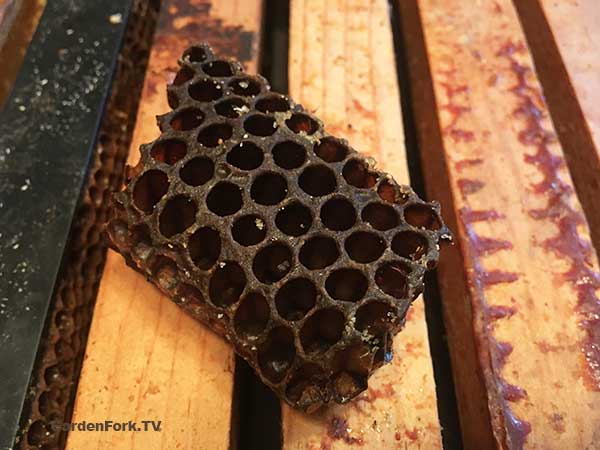 Bees that are swarming and looking for new home LOVE the smell of an old beehive, and are attracted right to it, hopefully. So save those chunks of old burr comb and honeycomb, and stick some in each of your quick swarm traps. I put the comb on the bottom board, under the frames. It doesn't have to be attached, it can just sit there.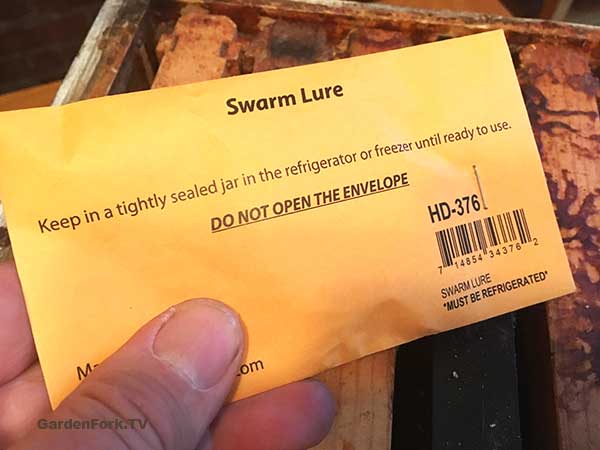 Because I like to buy bee supplies, and this was pretty cheap, I picked up this swarm attractant. Buy online here. The envelope has 2 small plastic vials of mystery fluid. I'm pretty sure its lemongrass extract and perhaps spearmint. It says not to open the envelope, but of course I did anyway, to discover the vials. Basically, the heat of the day warms up the plastic vials, which probably leak a bit of essential oil vapor. Place the vial on top of the hive frames in the box.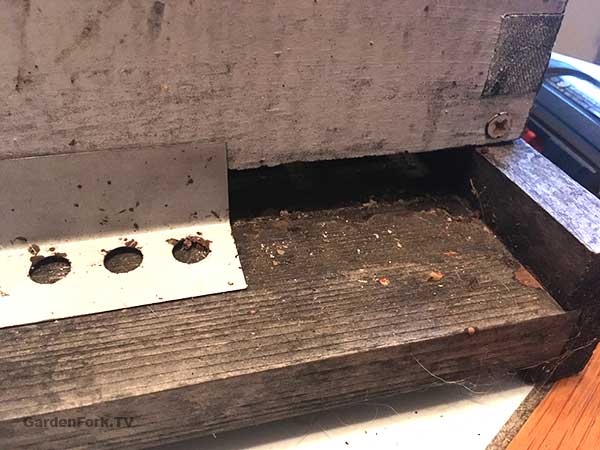 I'm using an old bottom board for the base of the swarm trap, but you want to reduce the entrance. The swarm may not have the population to defend a large entrance, so close it down with whatever you have. Duct tape works very well, FYI.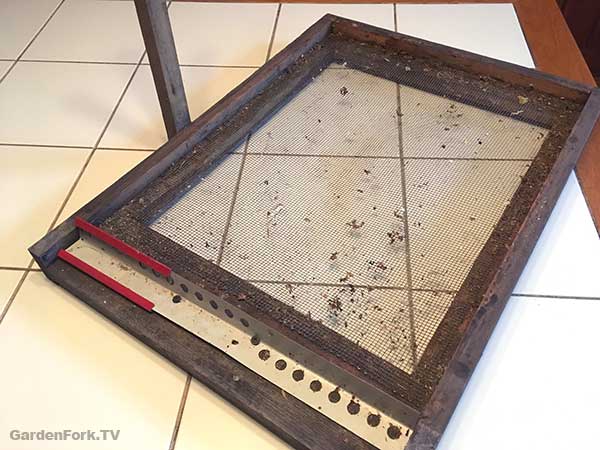 The screen in the bottom board helps to spread the aroma of the old burr comb, the honeycomb in the frames, and the attractant.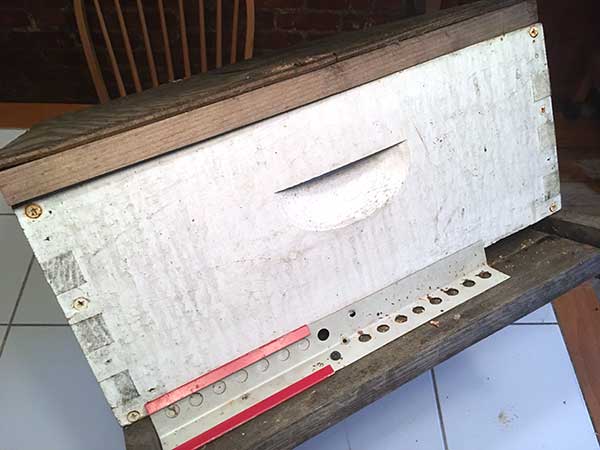 I made a cover for this out of scrap plywood and some 1x2 lumber. I screwed the top into the super holding the frames, and screwed the super into the bottom board. This way you can hang the rig in a tree or on a fence and when its full of bees, you can bring it down without it call coming apart. I usually attach a 1x4 piece of wood as a hanger, and wire this into a tree or fence.

Swarm traps seem to do best when located in a partial shade area about 100' from bee yard. But you can put them anywhere to test them. I put one in my Brooklyn backyard every year, because I see bees on our flowers, but have no idea of any beekeepers nearby. I have yet to catch a swarm in the yard, but I try.
You can make quick swarm traps out of all sorts of stuff, even political signs, learn more here.
I have caught some swarms, and its a lot of fun, watch here: