This Roasted Sweet Potato Wedges recipe is one of those overlooked but super easy dishes that makes me realize how simple it is to cook with what's already in the kitchen. These sweet potatoes are dusted with a bit of cinnamon to give them even more of a earthy warm flavor that offsets their natural sweetness. Watch our recipe video and then tell us your sweet potato recipes in the comments below.

When I first made this recipe, I added too much cinnamon, so I dialed it back for the recipe. You can add more if you like, but I suggest starting with a small amount. I was surprised at how such a small amount of a spice can overwhelm something like a sweet potato, but it can, as I learned. And I'm always learning.
The same thing goes for the  honey, less is a lot in this recipe, and too much and it will burn on the potato wedges. I'm repeating myself here, but please try to get local honey, or at least honey that is from the U.S. . Honey can be adulterated, like olive oil. If you don't have honey, a bit of maple syrup works or brown sugar, or just leave out the sweetener and it will taste great.
You may want to double this batch, as this recipe makes one sheet of roasted sweet potato wedges, and it depends on who you are feeding as to how much you should make. I like to line my cookie pan with foil, it makes clean up easier, but please recycle the foil, ok? Then we can use it again.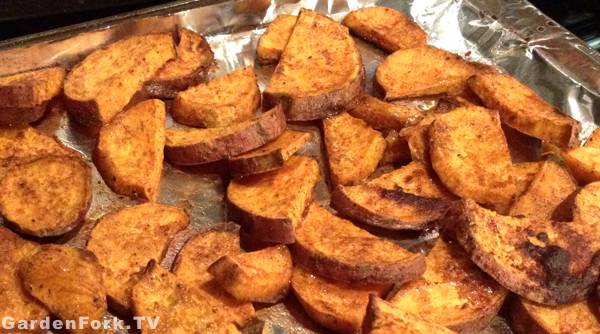 Roasted Sweet Potato Wedges Recipe
2 large or 3 medium sweet potatoes, washed and skin on
1-2 tablespoons of olive oil
½ teaspoon salt
4-5 grinds of black pepper
1 tablespoon honey
½ teaspoon cinnamon
Cut the sweet potatoes in half lengthwise, from end to end, so the potatoes will lay flat on a cutting board.
Cut the sweet potatoes into half circles about ¼" thick.
Put in a bowl large enough toss them in. This bowl is larger than you think.
Add in the oil, salt, pepper, honey, and cinnamon.
Use a rubber spatula or similar tool to toss the ingredients together, scraping the sides of the bowl to get the seasonings onto the potatoes.
Scatter the wedges on a foil covered baking sheet, its OK if the potatoes overlap a bit.
Turn on the oven to 375F and roast the potatoes for about 45 min.
They are done with a knife slides into the wedges easily.
These are best served warm or hot, they aren't great colder.
Turn the oven on to 375F