I love Blue Cheese dressing with my hot wings or salad. It's tangy, salty, and creamy with a rich blue-veined flavor. There's quite a few varieties available, but Roquefort, Stilton, and Gorganzola work the best. You don't need much, but do get a good Blue Cheese. I like Danish Saga, it's less salty and much creamier than Roquefort. I found that crumbled cheese is usually much cheaper than the block since it's made from what's left after cutting. Everything else you probably have in the fridge. Let's get busy.
Maple Blue Cheese Dressing
½ cup crumbled Danish Blue Saga
⅓ mayonnaise
⅓ sour cream
1 teaspoon maple syrup
2 tablespoon white vinegar
¼ teaspoon powdered garlic or ½ teaspoon minced garlic
3 tablespoon crumbled bacon (optional)

In a small bowl add cheese and garlic into the mayonnaise and sour cream and mix. Make sure not to overwork the dressing, you do want some chunks of cheese in there. Then add maple syrup and a little vinegar and mix well. Adjust ingredients to suit your taste. I always add more Blue Cheese.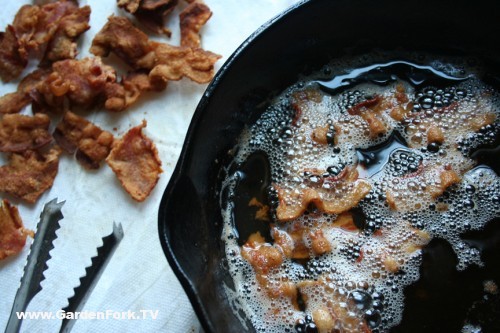 Crumbled bacon is optional but I never leave it out. Cut streaky bacon into 3" strips. Coat a hot skillet with a little oil. Cook the fattiest pieces first to make enough fat for frying. Fry until evenly golden, drain fat, cool and crumble into small pieces. Add about 3 tablespoon of bacon to the dressing, reserve the rest for the salad.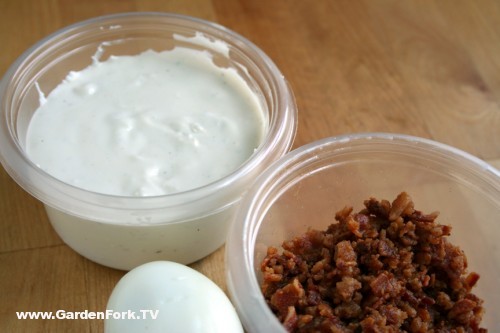 My friend Lindsey says her mother makes some kick-ass Blue Cheese Dip. Mrs. McCosh was more than happy to share her recipe with us. This Midwestern classic dip is made with Roquefort and cottage cheese. It's light with a hearty texture — guaranteed to take the sting out of any hot wing.
Mrs. McCosh's Blue Cheese Dip
½ cup Roquefort Cheese
½ cottage cheese, small curds
½ yogurt
3 tablespoon white vinegar
1 tablespoon sugar
¼ teaspoon dried dill
1 teaspoon minced garlic

Dissolve sugar in the vinegar and set aside. Crumble Roquefort in a bowl using a fork then add the rest of the ingredients and mix well, salt an pepper to taste. The cottage cheese hold everything together perfectly, lumps and all. Adjust ingredients to your taste. Pour Blue Cheese dressing into a container and refrigerate for at least 30 minutes before serving. It's served best the next day — then it's thick enough to stand a fork.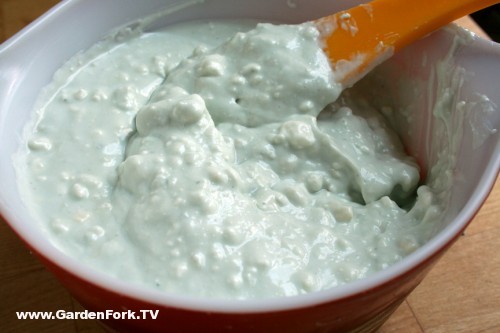 For salad, tear Romaine lettuce into bite sized pieces, toss with thinly sliced white onion and red grapes and plate up serving portions. Add hard boiled egg and drizzle Blue cheese dressing, and (optionally) top with more bacon. Diner is served!