Tomato Hornworms can ruin your tomato plants overnight. Here's how to get rid of tomato hornworms. If you notice the leaves of your tomato plant have been chewed to the stalk, and it looks like the plant has been stripped of it's leaves, you have a tomato hornworm infestation.
Nothing like coming up to the house to find large portions of your tomato plants stripped of their leaves. This is what happened to us, so we made a video about the tomato hornworms who took over our tomato patch.
The Tomato Hornworm is the caterpillar of the Five Spotted Hawk Moth, a relatively non-descript moth, but in its caterpillar stage wreaks havoc on tomatoes.
In the video I talk about the eggs of the parastic wasp, then I realized later the white protrusions from the caterpillar are the cocoons of the braconid wasp, not its eggs, which is even better, as soon they will hatch and parasitize more Hornworms. If you want the whole insect story, check out the Tomato Hornworm page at Wikipedia.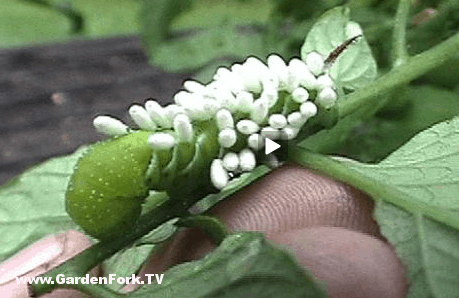 I have heard about cardboard collars one can put around a young tomato plant to prevent the Hornworms from crawling up the stem. Another way, according to Wikipedia, to reduce the resident population is to roto-till the garden, as this will destroy hornworm pupae in the soil.
If you see a wild sounding moth-bug think flying chaotically around your garden, it could be the adult moth of the tomato hornworm. I have only seen the moth a few times, but its huge and looks like a crazy bug thing.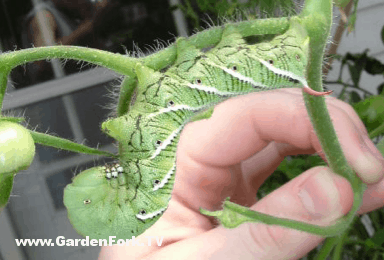 We have a number of how to grow tomatoes and how to cook tomato videos on our site here. I especially like our cherry tomato recipes, one of them is a raw cherry tomato pasta dish that is brilliantly simple.
Roast Cherry Tomato Pasta Recipe Video
Fresh Cherry Tomato Pasta Recipe Video
Get Rid of Tomato Hornworms Video