My video review of the Troy Bilt FLEX Log Splitter attachment. This log splitter attaches to the FLEX power base that also runs the other attachments in this line of outdoor power gear. Watch the video and read through my thoughts below.
Heads Up: Troy-Bilt is a sponsor of GardenFork, I think they are a good company, all opinions are mine. If I don't like something, I'll be straight with you.
Troy Bilt Flex Log Splitter: Easy To Store
I talk about this in the video, but the standout feature for me, besides that fact that its a good splitter, is how easy it is to store the splitter attachment. Most wood splitters are large, and you have to store them outside under a tarp. Not great for longevity, and an invitation to mice. With the Troy Bilt FLEX log splitter, you wheel it into the garage, tuck it under a shelf, disconnect the power unit, and you are done. The splitter unit is heavy, about 185 pounds, so you will be using a hand truck or the FLEX base to move it around.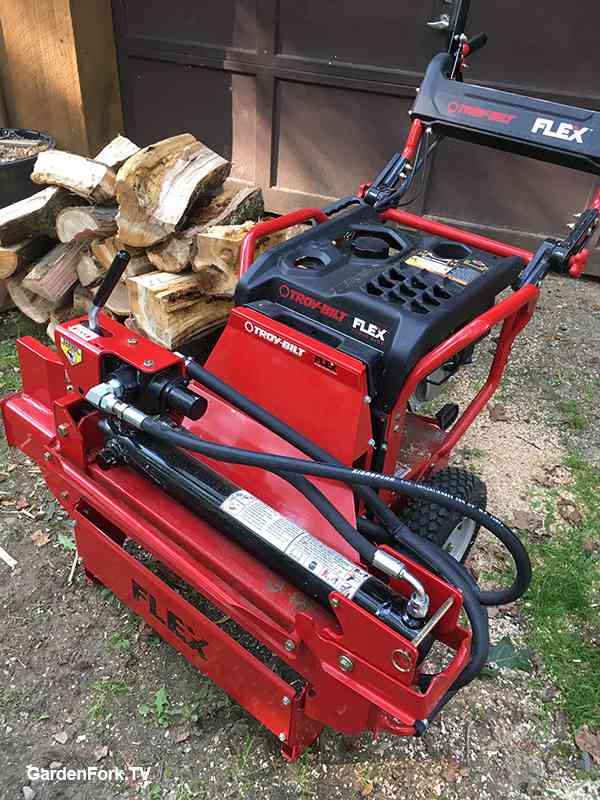 We've reviewed some of the other FLEX attachments, and I like how one power unit, (read: one engine) runs all sorts of different outdoor power equipment. That's one engine you need to maintain, not 4 or 5 of them. Think of the time savings. Only one oil change a few times a year.
I cut some red oak up in the neighbor's woods, and brought back a trailer load and ran it through the FLEX wood splitter. The machine did well. The engine did not bog down at any time. I ran a few 12" wide pieces through with no issues. The specs on the Troy-Bilt website state this will take up to an 18" long log, I put in a few 19.5" ones, which fit tight, but it worked.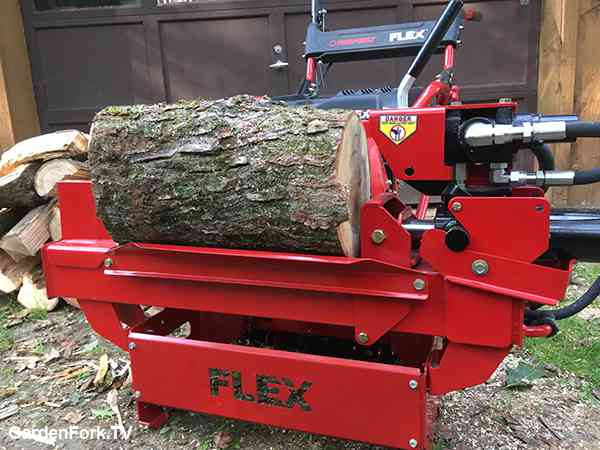 In the near future I think I'll pick up 4 way splitting wedge for this. Troy-Bilt doesn't sell one, but is sure makes splitting go faster.
My favorite feature is the auto reverse, which retracts the hydraulic piston back to its home point automatically. Tap the handle to the reverse position, and back the piston goes, stopping on it own. Nice.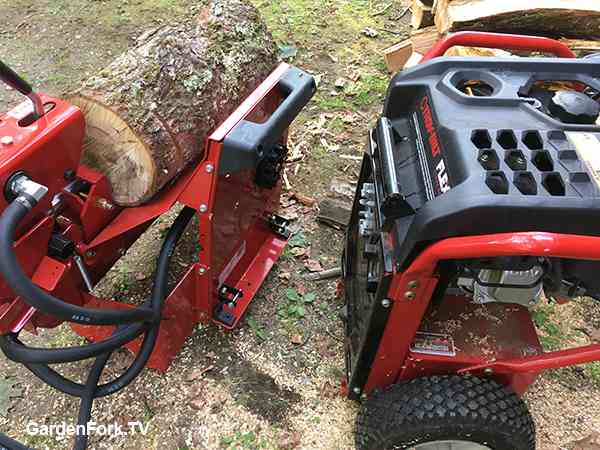 The one issue I had was attaching a clip under the direction handle. This is the only assembly you have to do, and getting that clip over what it basically a chain master link was tricky.
One comment I've seen a few times is that the wood splitter sits a bit low to the ground. Looking around, most all wood splitters in this power range (8 ton) sit low to the ground.
So there you go, I'm happy to have this in my garage, and not taking up a huge amount of space. Learn more about the FLEX base unit and its attachments on the Troy-Bilt website.