This post may contain affiliate links, it helps us pay the bills, more info here.
A while back I read an article about an artisanal bean hole beans recipe, and then and there decided to make the GardenFork version. In other words, the done is better than perfect Bean Hole recipe. Watch the video:

Any project that involves open fire and food is a good one. Growing up, we would camp in the backyard, and boil crayfish we caught in the quarry pond over our campfire. Fire, coffee can, crayfish = good. Same thing with beans, bacon, and a hole in the ground. Its wicked simple, and fun to do on the weekend, especially in the fall.
What is a bean hole beans recipe?
Cooking food in a hole in the ground, as a cooking method, has been around for a long time. Probably since humans learned how to use fire to cook food, or shortly thereafter. But the Bean Hole Beans we are talking about started with the Penobscot Tribe in Maine. They cooked their beans in a clay pot with bear grease and maple syrup.
This bean hole baked beans recipe was adopted by the logging crews in Maine. One story I read told of how they used this method while transporting logs down the river to the harbor. The cook would ride down the river one day ahead of the logging crew. He would dig a hole and start a pot of beans, mark the spot, and then ride down the river another day, and do the same thing. The loggers would arrive at the camping spot, and dig up the beans for dinner.
I'm not sure of the veracity of this story, but its certainly plausible to me. And what's not to like about pulling into camp to find dinner ready?
Bean hole cooking is the original Crock Pot cooking method of its day, the pre-electric version of the slow cooker. Plus its one of those low and slow methods, which we now know as a braise or BBQ.
How To Make Bean Hole Beans
This cooking method, is more than just cooking, its an experience. And it is great. It embraces the two mantras of GardenFork:
Done is better than perfect.
Use what you got.
Here's what you need:
Cast Iron Dutch Oven with a handle, and ideally a rimmed lid.
Wood to burn or chunk charcoal. Not large pieces of wood, btw.
Used clay bricks or rocks. Don't use rocks that break when heated.
Sheet metal of some sort.
Chain, or heavy wire, or coat hangers.
Aluminum foil.
You will need to dig a hole in your yard. I have found its easiest to do this in a raised vegetable garden bed. Its much easier, but dig where you are allowed. THINK about where you are digging, before you dig, OK?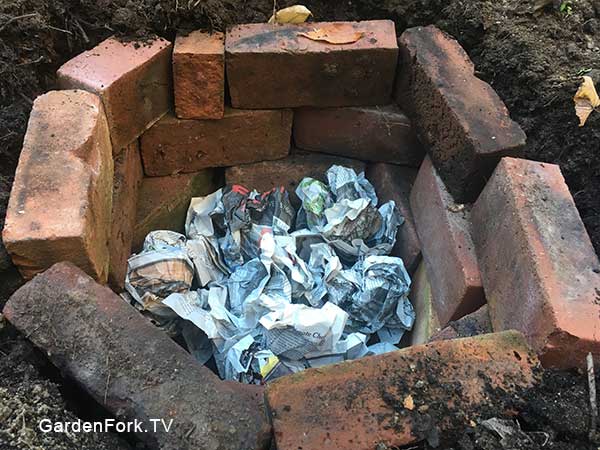 Your hole is at least 6" wider than the dutch oven and at least a 12" deeper. Line the hole with used clay bricks. I don't think one needs to use firebrick.
Start a small fire in the hole with small pieces of wood. This will take longer if you use big pieces. Use small pieces. Add wood to this fire to build a larger fire.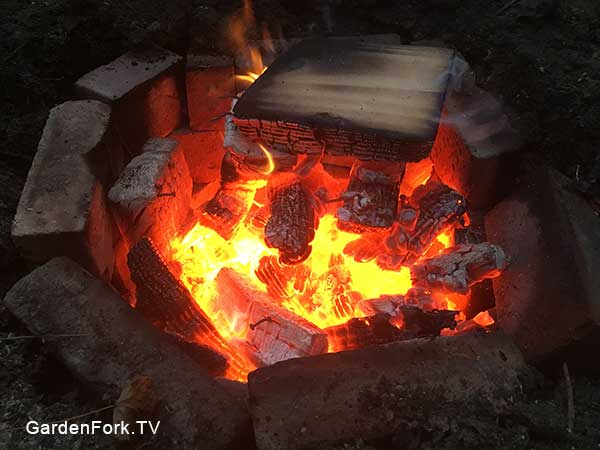 Let the fire burn down so the wood is starting to turn to coals. This is subjective, but you want a good base of coals to surround your dutch oven. There can be some wood that has not become coals yet. If you wait for everything to be burned down to coals, you've probably waited too long.
Clean the center of the fire pit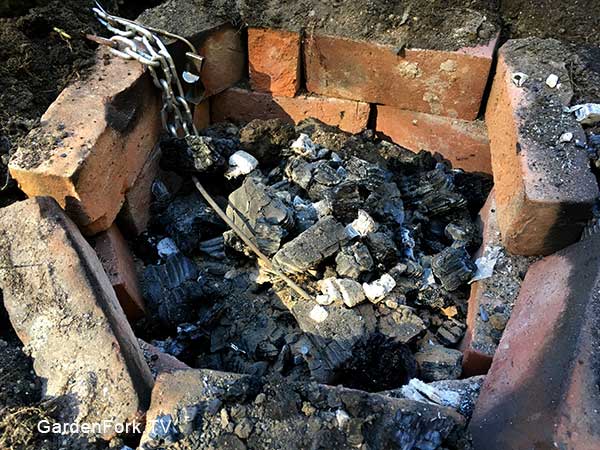 There are many bean hole beans cooks that par boil their beans before putting them in the dutch oven - to me this a waste of time. The beans are going to be cooking a long time. It's great to brine beans before cooking, i do it all the time, but for this recipe, you don't need to. OK? Good.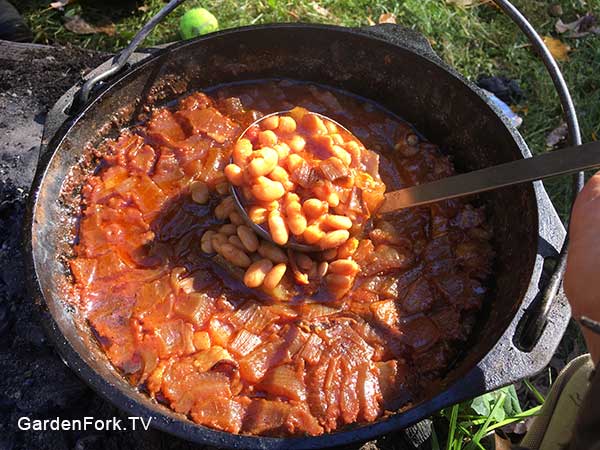 Bean Hole Beans, the GardenFork recipe
One 1 lb bag of dried northern beans - not soaked (other white beans work fine too)
2 tablespoon Mustard
One small can of tomato paste
½ cup maple syrup
One chopped sweet onion
4 slices of bacon.
1 tablespoon kosher salt
6 cups of water
- again, use what you got, you can add other stuff to this recipe
Put all the ingredients in the dutch oven. If your dutch oven lid does not seal well, place one or two layers of aluminum foil between the dutch oven and the lid.
Cover the outside of the lid with aluminum foil to keep any dirt from getting in to the beans.
Remove half the coals and move the rest to the sides. Lower the dutch oven into the hole, add back in the hot coals. Cover with the tin and then dirt. Be sure to lay the chain so its outside the fire pit.