Recycling old kitchen cabinets into a new workshop bench on this Real World Green show. Upcycling or repurposing kitchen cabinets that would have been thrown out, we make these into an upcycled garage or basement workshop bench and storage cabinets. This how to re-use kitchen cabinets video shows one way to recycle construction materials, or materials from deconstruction of a kitchen renovation.
These kitchen cabinets are from my parent's house and we made them into a work bench for my sister's basement workshop. There are all sorts of ways to re-use kitchen cabinets, they make great storage units in your basement or garage, and  if you don't like the color, you can clean them with a grease cutting cleanser, sand them lightly, then paint them. Use a foam roller for best results when painting kitchen cabinets.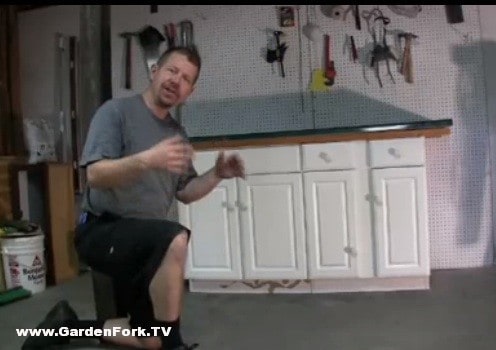 When deconstructing a kitchen with the plan to re-use the old cabinets, be careful when removing the cabinets. Many times they are screwed in without the thought of someone wanting to re-use them with lots of screws. Kitchen counterops are usually screwed in from  underneath, but there may be construction adhesive holding them in as well. Use a pry bar, aka wonder bar, and gently wedge it between the lower cabinet and the countertop.
How have you re- used kitchen cabinets? What ideas do you have to put cabinets and counters to a second use?