When you replace an outdoor outlet, spend the money on a good cover, or you will be replacing the outlet again soon. I wrote about a GFCI outlet I replaced that was hit with a power washer, and in the project below I use a higher quality outdoor outlet cover. This kind of cover is better, I think, and allows for power cords to be plugged in for the long term without getting water into the outlet.
What breaks first here is the gasket protecting the GFCI outlet from the elements. When the gasket fails, water can get in and fry the outlet. A bad thing. Same thing happens when you hit it with a power washer. Another bad thing.
So when you want to replace an outdoor outlet, go buy one of these high quality outdoor covers. They are worth it. Your outlet will last a lot longer. Plus when you are plugging in your Christmas lights, you will realize how well this cover works.
I like this one because it has knock-outs that allow a cord to be plugged in yet still be protected by the clear plastic cover. Pry out the notched holes to allow the cord to run out the bottom of the outlet.
Another plus of putting on a new cover is the new gasket that comes with the outlet kit, and the best thing is included in the kit are new screws! One might not get excited about that, but when you are jammed behind a large shrub, using new screws makes your day.
I see broken outdoor outlets all the time, and they can be a pain to replace. Many times they are tucked below large plantings, and are near the ground, so you have to kneel down to work. Not fun. So do this right the first time, and save your knees and time.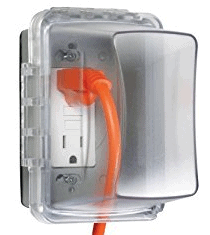 Buy a weatherproof cover on Amazon here.
Some more posts you might like:
Homemade Pallet Compost Bins By Greg
5 Great Seed Starting How To Videos
Plant A Window Flower Box - GF Video
Save
Save
Save